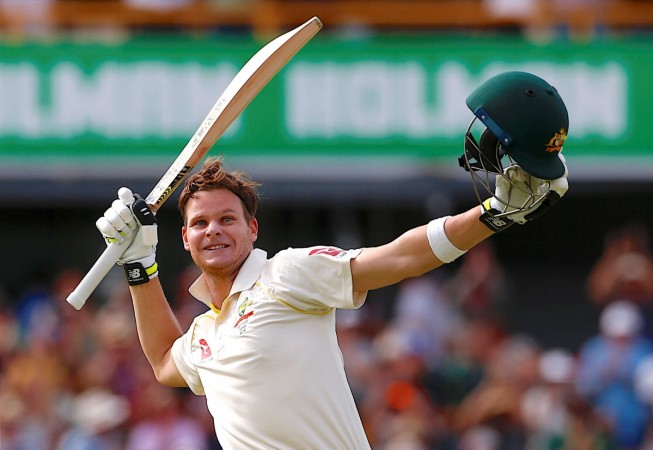 Australian captain Steve Smith continues to rule Test cricket. He is now on his way to match the legendary Sir Don Bradman.
Smith, who hit a match-winning 239 in the third Ashes Test against England at Perth, has now scaled a new high in the International Cricket Council's (ICC) Test Rankings for batsmen. He has overtaken Peter May, Ricky Ponting, Jack Hobbs and equalled a 63-year-old mark.
Thanks to Smith's superb knock, Australia won by an innings and 41 runs to win the Ashes 3-0 with still two Tests to play.
"Steve Smith, the top-ranked Test batsman, continued his phenomenal run to rise to new heights in the ICC Test Player Rankings, moving closer towards Don Bradman's highest-ever ranking points, after a match-winning double-century in the third Test against England in Perth," ICC said today (December 19).
The top-ranked Australian now has a tally of 945 points to take joint-second position in the all-time list, along with Len Hutton, who achieved it in April 1954 against West Indies. Smith had reached 941 points after the first Test in Adelaide before dropping briefly to 938 after the Brisbane Test.
"Smith, who has gained seven points after his performance in Perth to overtake Peter May, Ricky Ponting and Jack Hobbs. He is now within 16 points of Bradman's tally of 961 points, and has had a minimum of 918 points over the past 12 months, which is 25 more than what second-placed Virat Kohli has as of now.
"His batting average of 62.32 is second only to Bradman in terms of batsmen with at least 20 Test innings and by the time the fourth Test of the series starts on Boxing Day, he would have been the number one for two years.
"Smith is already ahead of Bradman with regard to the number of Tests at the top. He has now been number one for 114 Tests, which is the fifth-most in a list led by Gary Sobers (189 Tests) and with Viv Richards (179), Lara (140) and Tendulkar (139) the only ones ahead of him in this list," ICC added.
The 28-year-old Smith has so far played 59 Tests scoring 5,796 runs at an impressive average of 62.32 with 22 tons. He also has 3,329 runs from 103 ODIs. He has scored 431 runs from 30 T20Is.
ICC Test Player Rankings (as of 19 December, after the third Test between Australia and England in Perth
Batsmen (Top 10)
(Read as Rank, (+/-), Player, Team, Points, Average, Highest Rating)
1. ( - ) Steve Smith Aus 945! 62.32 945 v Eng at Perth 2017
2. ( - ) Virat Kohli Ind 893 53.75 895 v Ban at Hyderabad 2017
3. (+1) C. Pujara Ind 873 52.96 888 v SL at Nagpur 2017
4. (+1) Kane Williamson NZ 855 50.62 893 v Aus at Perth 2015
5. (-2) Joe Root Eng 852 52.37 917 v Aus at Trent Bridge 2015
6. ( - ) David Warner Aus 801 47.97 880 v NZ at Perth 2015
7. ( - ) Hashim Amla SA 795 49.87 907 v Pak at Abu Dhabi 2013
8. ( - ) Azhar Ali Pak 755 46.62 787 v Aus at Melbourne 2016
9. ( - ) D. Chandimal SL 743! 43.94 743 v Ind at Delhi 2017
10. ( - ) Ross Taylor NZ 739 48.04 871 v Win at Hamilton 2013