At a time when the much-awaited iPhone X is only two weeks away from release, the latest version of Apple's mobile operating system, iOS 11, now runs on over 55 percent of devices, according to data compiled by analytics firm Mixpanel.
iOS 11, which was first released to the public on September 19, has so far experienced a slower adoption rate compared to iOS 10. However, it is gradually picking up over the past few days.
Nearly 24 hours after its release, iOS 11 was installed on 10 percent of iOS device while the number increased to over 25 one week after the new software was made public. Two weeks after release, iOS 11 was installed on 39.73 percent of devices.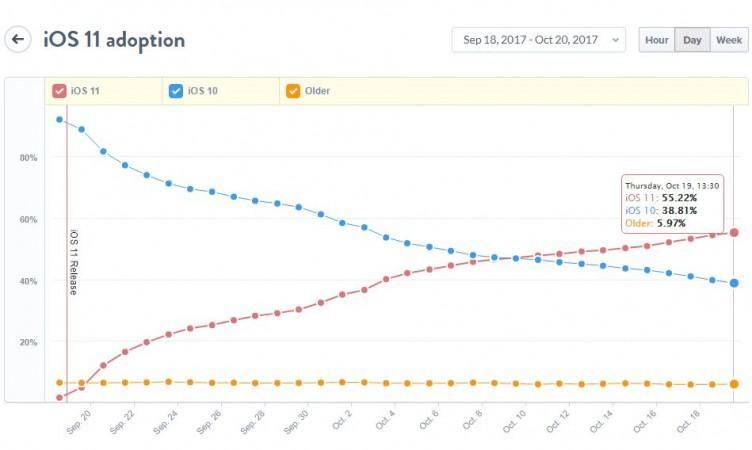 iOS 11 first overtook iOS 10 in the third week of its release, accounting for 47.75 percent of devices, against 46.36 percent claimed by the previous version of the OS. The gap between the two versions has continued to widen ever since, with iOS 11 currently running on 55.22 percent of devices while 38.81 percent of devices still on iOS 10.
Three minor updates so far
Apple has so far released three minor updates to iOS 11 to bring bug fixes and other performance-related issues. The most recent update, iOS 11.0.3, fixes haptic feedback features on the iPhone 7 series, and also the nagging unresponsive display on the iPhone 6s.
The iOS 11.0.2 update fixed an issue where crackling sounds occurred during calls on some iPhone 8 and 8 Plus devices. The iOS 11.0.1, on the other hand, included a fix for a bug that prevented emails from being sent from Exchange servers.
Apple recently confirmed that its upcoming iOS 11.1 update will bring hundreds of new emoji characters to the platform. The update is also expected to bring several minor features to the operating system, in addition to the standard bug fixes and performance enhancements.
World awaits iPhone X
Meanwhile, Apple is currently preparing for the release of its newly-designed iPhone X on Nov. 3. This is the first year that the company has introduced two families of iPhones during the same event.
In addition to the difference in the camera systems between the iPhone 8 series and the iPhone X, the latter has other new features like the bezel-less OLED screen and the Face ID that represent a much larger evolutionary gap.
The pricing of the iPhone X starts at $999 for the 64GB version. Pre-orders are set to begin on Oct. 27.