Apple's latest iOS 11 mobile operating system is only two weeks old, but it is already installed on 39.73 percent of the company's devices, according to data compiled by analytics company Mixpanel.
Over the last one week, the adoption rate for iOS 11 has increased by just over 10 percentage points. Nearly 24 hours after its release, iOS 11 was installed on 10 percent of iOS device while the number increased to 25.28 one week after the new software was made public.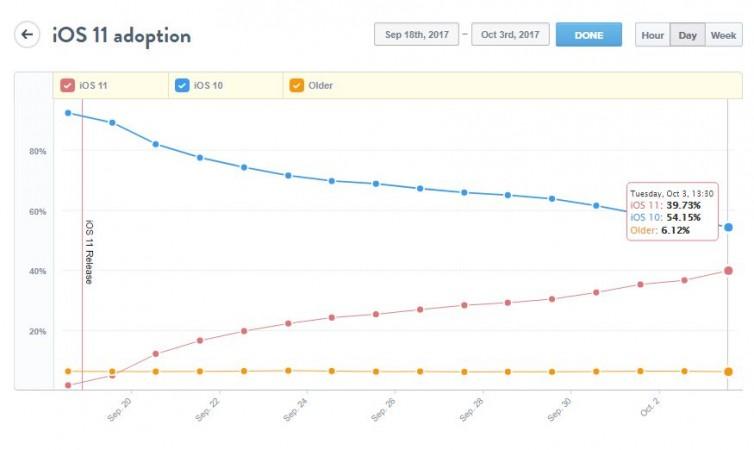 Mixpanel data, however, also showed that iOS 11 adoption rate has been slower than that of iOS 10 during the same period last year. According to the data, iOS 10 was installed on 48.16 percent of devices two weeks after Apple rolled out the OS to users.
While the exact reason for iOS 11's sluggish growth rate is still unknown, speculations have it that delay in introducing new features like peer-to-peer Apple Pay and iCloud storage for iMessages might have slowed the adoption.
Despite a slower-than-expected adoption rate, iOS 11 is still at a much better position when compared to Android 8.0 Oreo, the latest version of Google's mobile operating system.
According to the data Google has shared on its developers site, Oreo currently has an insignificant market share of only 0.2 percent. The number also indicates that Nexus and Pixel devices -- which were upgraded to Oreo since late August -- account for a small share of the Android market.
The Android versions with the highest distribution rates are the older Marshmallow and Lollipop releases, accounting for 32 percent and 27.7 percent, respectively. Android Nougat, which was released last year, is installed on only 17.8 percent of the devices, followed by KitKat with a distribution rate of 14.5 percent.
Any new Android version is initially made compatible with Google devices only. That's the reason why it gets a small market share in the first months after the release.
Meanwhile, Apple released the iOS 11.0.2 firmware update on Tuesday, one week after it released iOS 11.0.1 update. The latest update fixes an issue that made some iPhone 8 and iPhone 8 users report that their phone's earpiece makes a "crackling" or "static" sound that disrupts the audio while making calls.
Here're the changes included in iOS 11.0.2 update:
- Fixes an issue where crackling sounds may occur during calls for a small number of iPhone 8 and 8 Plus devices

- Addresses an issue that could cause some photos to become hidden

- Fixes an issue where attachments in S/MIME encrypted emails would not open
The size of the iOS 11.0.2 update weighs in at 286.8MB. It can be downloaded over-the-air in the Settings app (Settings > General > Software Update).