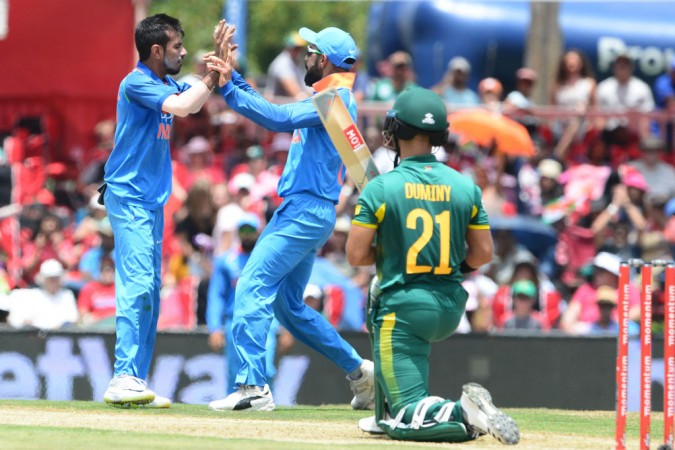 South African batsmen have found it tough to tackle the Indian spin duo of Yuzvendra Chahal and Kuldeep Yadav. And they are set for another round of stern test in the third One Day International today (February 7) in Cape Town.
Ahead of the game, India opener Shikhar Dhawan explained as to why the hosts' batsmen are unable to counter the spin threat of Chahal and Kuldeep.
Also read: Kohli-led India on the cusp of history
South Africa's batting coach Dale Benkenstein had said that the Indian spinners were "lot slower" and it was one of the reasons for their failures.
"The tough thing is you are playing against two wrist spinners, and not a lot of players have played against. It does take time to get used to their change-ups and their variations. Their spinners are very good, obviously. Earlier, Anil Kumble was the one who could really spin the ball away from the bat. He bowled pretty quick and the ball would come on to the bat. But these guys (Chahal and Kuldeep) are a lot slower," Benkenstein had said after the second ODI.
When asked about Benkenstein's comments and queried whether they lacked patience in facing the spinners, 32-year-old Shikhar said on Tuesday (February 6), "I won't say it is lack of patience. In one-day games you have to score runs. If you defend a lot of balls it is of no use. Only they can answer this question. They are losing wickets in the middle overs and hence can't achieve their target (scoring more runs)."
He added, "Of course it depends on your thinking (as a batsman). If there is doubt or confusion in the mind then it affects your batting. Of course they are unable to tackle our spinners and hence they will be over-cautious. That has resulted in our advantage."
In the second ODI in Centurion, Chahal (5/22) was the Man-of-the-match. India coasted to nine-wicket victory chasing down 119. So far in two matches, Chahal (seven) and Kuldeep (six) have shared 13 wickets between them. India hold a 2-0 lead in the six-ODI series.
According to Shikhar, it is difficult to read Kuldeep than Chahal. "It is more difficult to read the chinman bowler (Kuldeep). It is not that difficult to read Chahal but his googlies will be tough (to pick). From personal point of view, I find Kuldeep tough to read," the left-hander opined.