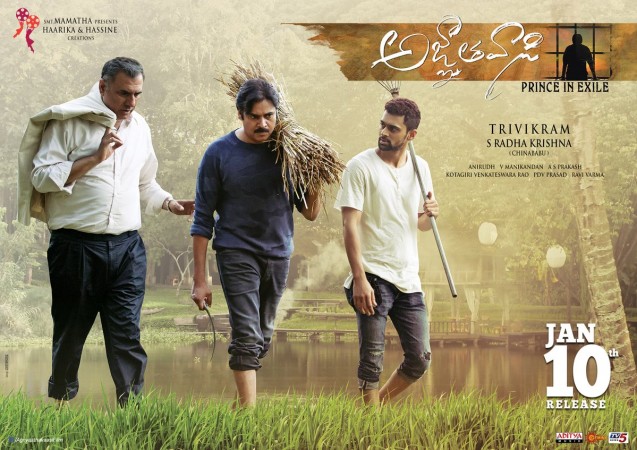 Trivikram Srinivas' Agnyaathavaasi (Agnathavasi) starring Pawan Kalyan has reportedly earned Rs 160 crore in its pre-release business, beating the theatrical rights record of Baahubali: The Beginning.
5 reasons to watch Agnyaathavaasi | Movie Stills | Brand New Poster
Pawan Kalyan and director Trivikram Srinivas are coming together five years after the release of Attarintiki Daredi, which is one of the 10 highest grossing Telugu movies of all time. Its huge success has generated lot of hype for Agnyaathavaasi. In addition, its promos doubled the curiosity and expectations.
Read: Agnyaathavaasi movie review
The hype surrounding Agnyaathavaasi has apparently created huge demand for its theatrical, satellite, music and digital rights. Many leading distribution houses, TV channels and music labels vyed hard to acquire the film's rights. With two days left for its theatrical release, the latest we hear is that the makers have sealed the deals on the sale of all its rights and the film has registered record numbers.
Read: Agnyaathavaasi pre-sales in US: Trivikram's film beats SGS record
Agnyaathavaasi has fetched Rs 92.30 crore from the theatrical rights of Andhra Pradesh and Telangana, Rs 14.crore from its distribution rights for rest of India and Rs 19.40 crore from its overseas rights. The movie has earned a total of Rs 125 crore from the sale of its global distribution rights. It has beaten the record of Baahubali: The Beginning, which earned Rs 117.30 crore from its global theatrical rights.
Read: Poonam Kaur cries for Pawan Kalyan's help to escape from Mahesh Kathi
Agnyaathavaasi amassed Rs 32.50 crore from the TV rights of its Telugu and Hindi dubbed version and Rs 2.50 crore from its music and other rights. Its total pre-release business reportedly stands at Rs 160 crore, making it the second highest after Baahubali: The Conclusion.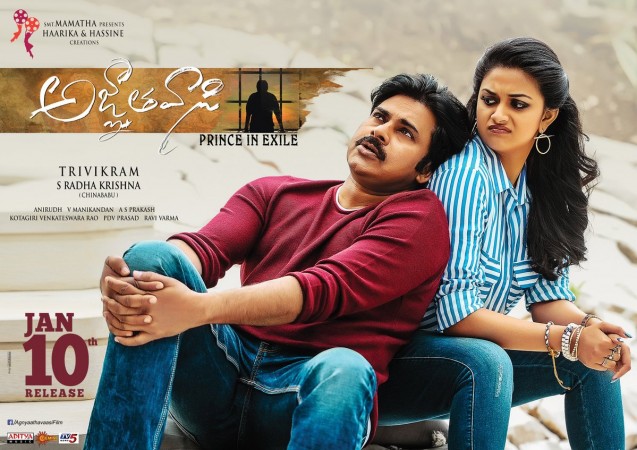 Attarintiki Daredi had earned less than Rs 100 crore in its pre-release business though it went on to become blockbuster for Pawan Kalyan. But the actor's later releases Sardaar Gabbar Singh and Katamarayudu fetched Rs 108 crore and Rs 103 crore, respectively in their pre-release business.
However, both Sardaar Gabbar Singh and Katamarayudu bombed at the box office and incurred huge loss to its distributors. Now, with Agnyaathavaasi earning more than them, it should be seen whether it would be able to recover the distributors' investments and earn them profit.
In fact, its pre-release business is much bigger than that of megastar Chiranjeevi's landmark 150th movie Khaidi No 150, which earned Rs 103.50 crore.
Here are the price details of various rights of Agnyaathavaasi (AV), Baahubali: The Beginning, Khaidi No 150, Sardaar Gabbar Singh (SGS) and Katamarayudu. These numbers are based on various reports and they may no match with actual figures. All the numbers are in Rs and crore.
| | | | | |
| --- | --- | --- | --- | --- |
| Rights | Katamarayudu | Khaidi | SGS | Agnyaathavaasi |
| Nizam | 20.00 | 23.00 | 21.00 | 29.10 |
| Ceded | 11.70 | 11.70 | 10.50 | 16.30 |
| Vizag | 8.30 | 7.80 | 7.20 | 11.90 |
| G East | 5.85 | 5.40 | 5.40 | 8.10 |
| G West | 4.70 | 4.60 | 4.40 | 6.80 |
| Krishna | 4.30 | 4.60 | 4.30 | 7.10 |
| Guntur | 6.10 | 6.40 | 5.50 | 8.90 |
| Nellore | 2.75 | 3.00 | 2.70 | 4.10 |
| AP/T Total | 63.70 | 66.50 | 61.00 | 92.30 |
| Karnataka | 7.40 | 8.50 | 8.50 | 10.90 |
| Rest of India | 1.90 | 2.00 | 7.20 | 2.40 |
| Overseas | 11.50 | 12.00 | 10.50 | 19.40 |
| Theatrical Total | 84.50 | 89.00 | 87.20 | 125.00 |
| Satellight | 18.50 | 13.00 | 13.00 | 32.50 |
| Music and others | NA | 1.50 | 8.00 | 2.50 |
| Total Business | 103.00 | 103.50 | 108.20 | 160 |