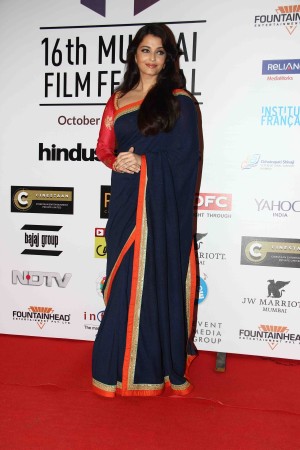 Sanjay Gupta has roped in another talented actress of Bollywood, Shabana Azmi, for his upcoming film "Jazbaa", which features Aishwarya Rai Bachchan in the lead role.
"Jazbaa" story revolves around four characters and Gupta had previously said that he is looking for a senior actress to play the fourth character. The director's search has finally ended with the National Award Winning actress Azmi.
Azmi will play the role of a college professor, the third main character in the film, The Times of India reported. Aishwarya Rai and Azmi have previously worked in the 2006 released film "Umrao Jaan" and will be seen sharing screen space after eight years.
Aishwarya Rai will play the role of a lawyer, while Irrfan Khan will be seen as a suspended cop.
The film also features Anupam Kher and John Abraham, but the director hasn't disclosed their roles.
"Jazbaa" is the official remake of a South Korean movie. The director hasn't revealed the name of the foreign film, but according to the storyline it looks like it is a remake of the crime thriller "Seven Days".
The story of "Seven Days" also revolves around four characters, which include a lawyer (played by lead actress), suspended cop, a professor and a gangster.
Meanwhile, the shooting of the film will start in December and the film's premiere will be held at Cannes Film Festival 2015.
"Sanjay and his team felt that since Aishwarya and Irrfan are well known in the international circuit, it would seem right to wrap up the film, and keep it ready for premiere at Cannes in May 2015. It would give the film an incomparable push," a source close to the production house told Hindustan Times.
Since Aishwarya Rai has agreed to do the film, it will go on floors in December and the shooting will end in February 2015.