Kim Kardashian's past with Ray J bites her butt again. After the infamous sex tape featuring Kim K's ex-boyfriend leaked online and created a chaos on the social media, another tape featuring the ex-flame has surfaced online. This time, the naughty couple was reportedly recorded strip teasing.
In a video obtained by OK! Magazine, a part of Radar Online, the ex-couple is reported to spicing things up during Kim's 23rd birthday getaway. According to the website, the clip was taken in October 2003. Kim and her then-boyfriend Ray J were in Cubo San Lucas at that time.
Also Read: Kim Kardashian slams cocaine accusation
The "never-before-seen" video features Kardashian and Ray J in a naughty avatar. The website claims that the couple teamed up for a hot show of their own. The performance reportedly turned raunchy when Ray grabbed Kim's boobs while they swayed to the music in front of a huge crowd.
Turning the steam up a notch, Kim grabs hold of his genitals. Things get nastier when the host of the event asks the couple their favourite sex position and Kim reveals "sideways," which is followed by Ray pretending to tweak her nipples, the website claims.
However, the video shared by the website paints a different picture. Radar Online shared a recording of Ray stripping for a random stranger at a local bar. Ray is seen dancing to Prince's song Kiss while "warming up" to a random stranger at the event.
Though Kim is not performing, she is seen cheering her then boyfriend. Grinding and stripping down for a random woman, Ray is totally focused on his performance while Kardashian screams, "Take it off!"
This raises a few questions given that Radar Online is not always a credible website. However, with the sex tape revealing the duo's love for raunchy PDA on camera, it wouldn't be surprising if there is a video of them performing a steamy act in public.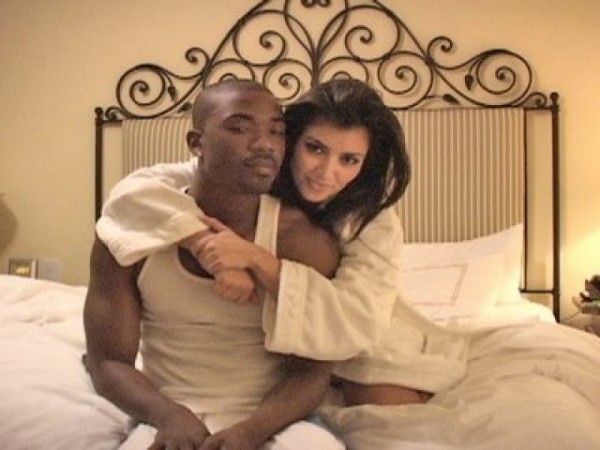 The couple went on to date for three more years after this incident and eventually broke up. Just a few months after they broke up, a sex tape was leaked online, making both the stars famous overnight.