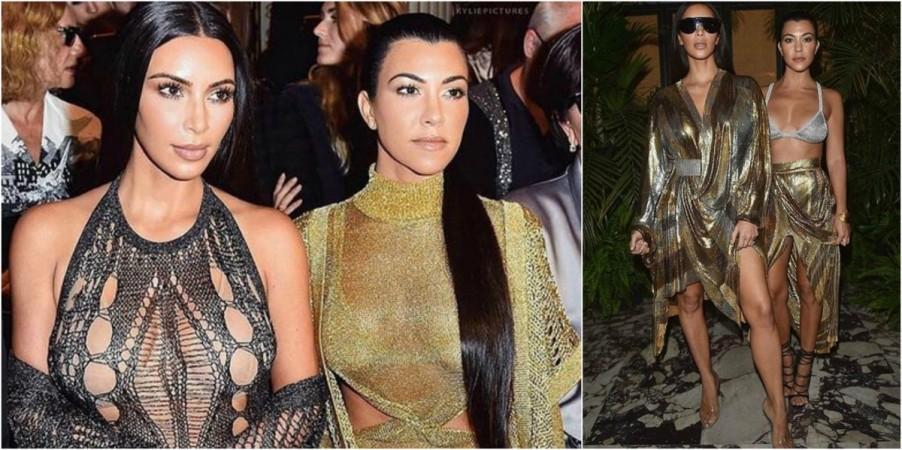 The summer is officially here as the Kardashians are making their summer statements. And boy, their statements are getting hotter with the temperatures.
Also Read: From Nicki Minaj to Ashley Graham; bikini clad celebs that give you summer goals
Adding oomph to the changing climate, Kim and Kourtney are showing off their curves in their new swimsuits. During a vacation, they were seen walking out of the pool and into the beaches of Mexico. The Kardashian sisters are now giving the world a good view of their assets through their holiday in Puerto Rico.
First up, Kim Kardashian! A day after the reality star was criticised for showing off an un-airbushed image of her booty in a thong, Kim stepped out to the beach to show off ample booty and her curvy hips.
Kim ditched the pool side to head out and enjoy the Sun at the Mexico beach. The star was pictured showing off her curvalicious bod' in a blue Dior bikini that beautifully displayed her golden complexion.
The star oozed of sexiness and confidence, shutting out people who shamed her for not having an hour glass figure.
She shut shamers by showing off ample hips and more bust than the tiny Dior could contain.
Accompanying her sister with utmost confidence, Kourtney stepped out in a pair of royal blue bikinis that could clearly not contain her assets either. The 38-year-old showed off prominent under-boobs as she made her way to the sands.
Kourtney not only displayed her bronze body, but also gave onlookers some envy as she let her sleek figure and toned abs do the talking. However, the celebrity's display did not end there. Kourtney almost risked a wardrobe malfunction when her bikini reveals her modesty and gave onlookers a view inside her panties.
But after the beach visit, Kourtney ditched the bikini to entertain Kim by performing some naked cartwheels.
Later, the duo was seen at the beach again in matching silver bikinis.
The Kardashians are clearly having a ball!