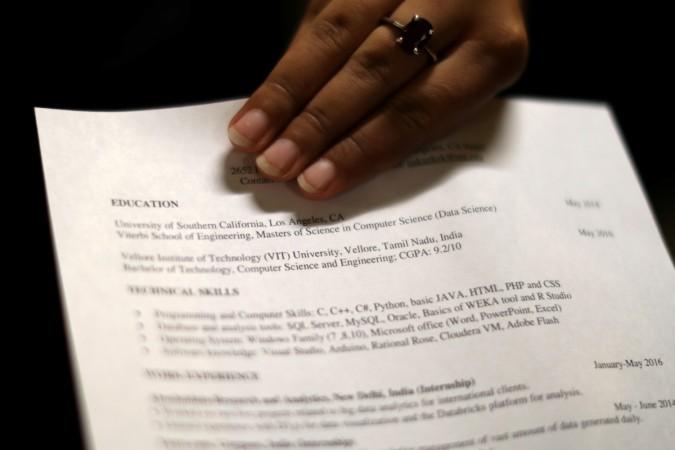 Amid reports of massive job cuts in the IT sector with giants like Infosys, Cognizant, Wipro, and Capgemini among others reportedly sacking numerous employees, job portals are said to be flooded with resumes of people seeking IT jobs.
While consultancies too have been busy dealing with these resumes, it is mostly the online job portals that seem to be the go-to place for those who have recently been given the pink slip. Those retrenched seem to be opting for portals like Naukri, Monster and Indeed to find jobs.
"The suddenness of the present job crisis in the IT industry has really hit those who have been retrenched. With most companies not being prepared for the automation wave or lacking concrete plans to reskill the impacted employees, most of them will soon be flooding the job market," Money Control quoted Ajay Kolla, founder and CEO of Wisdomjobs.
In just four months – January to April -- Naukri.com saw a 27 percent jump in job applicants from the IT industry compared to the same period last year, according to LiveMint. CareerBuilder calculated an 11.5 percent hike; whereas iimjobs.com saw a 12.4 percent increase. Meanwhile, Monster.com saw a huge jump in IT job applicants – about 60-65 percent in just a month.
Though it cannot be confirmed that all the applicants lost their jobs during the wave of layoffs – some of them could be just starting out and others could be looking for a change -- Rituparna Chakraborty, co-founder and executive vice-president at TeamLease told LiveMint that people could also be looking out for jobs as uncertainty in a lot of companies looms large.
"This increase can be attributed to the uncertainty that clouds their future with regards to the continuity of the current job role, given the transformation that their organisations are going through," Chakraborty explained.
Meanwhile, a lot of applicants who have IT degrees are also said to be looking for jobs in other industries considering the IT sector already seems to be going through a lull thanks to US visa issues, economic slowdown as well as automation.
The IT giants are also hiring a lesser number of employees each year and automation could be one of the reasons. Most of the companies now rely on digital services.
"With automation, the number of people we are hiring in the past will not be the same. It will slow down a little bit. We are also looking at hiring very differential kind of people," Indian Express quoted Krishnamurthy Shankar, executive vice-president, group head, human resource development, Infosys, as saying.