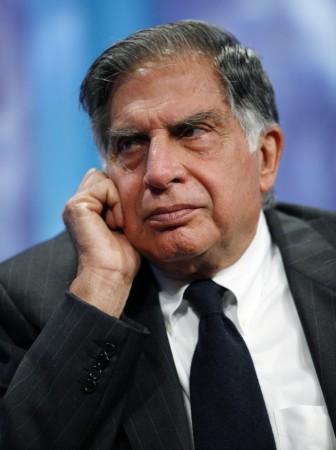 Business tycoon Ratan Tata will step down as chairman of Tata Group on Friday. Now all eyes are on his successor, Cyrus Pallonji Mistry, if he can carry forward the legacy of India's biggest industrial house.
Ratan will depart from the Mumbai-based group on his 75th birthday, which also marks the end of his 21-year-old reign, wherein he had transformed a private trading firm into a $100 billion global empire.
The company's first major acquisition of Britain-based tea company, Tetley, in 2000 kicked off a global expansion spree. Among its other high-profile acquisitions were NatSteel's Steel business in 2004 and Teleglobe International Holdings in the following year.
As in any change in leadership, particularly in a multi-billion dollar conglomerate, nervousness is bound to set in on whether the inheritor can push the company towards greater heights, or at the least, maintain a continuity of its present success.
In the case of Tata Group, 44-year-old Mistry has apparently proved to Ratan that he has what it takes to keep alive the company's global presence. Mistry may not be a part of the Tata family, but he owns 18.5 per cent stake, making him the single largest shareholder in Tata Sons. Mistry, who earlier served as managing director of Shapoorji Pallonji Group, was shortlisted as chairman by a five-member selection panel, which was constituted in August.
Mistry is the second non-family member to lead the group after Sir Nowroji Saklatwala, the third chairman of the Tata group who took charge of the company's reigns until his death in 1938.
The announcement of Mistry as the panel's choice, made in November, came as a surprise for many, who expected Noel Tata, Ratan's half brother, to take his place. Mistry was known to have kept a low profile throughout the years, but his meticulousness to details is what Ratan had apparently been looking for in a successor.
Commenting on the panel's decision, Ratan had then said, "The appointment of Cyrus P Mistry as Deputy Chairman of Tata Sons is a good and far-sighted choice.
"He has been on the Board of Tata Sons since August 2006 and I have been impressed with the quality and calibre of his participation, his astute observations and his humility. He is intelligent and qualified to take on the responsibility being offered and I will be committed to working with him over the next year to give him the exposure, the involvement and the operating experience to equip him to undertake the full responsibility of the group on my retirement."
Though Mistry will now head the group, every step of his way will be closely watched by Ratan, who will take his role as chairman emeritus of Tata Sons.
As noted by BBC, Mistry's biggest task probably lies in maintaining the core values of trust, integrity and commitment to community service that defined the Tata Group in the past 45 years. He would also be required to epitomize Ratan's role as strategic thinker and risk taker to maintain the company's competitive position.