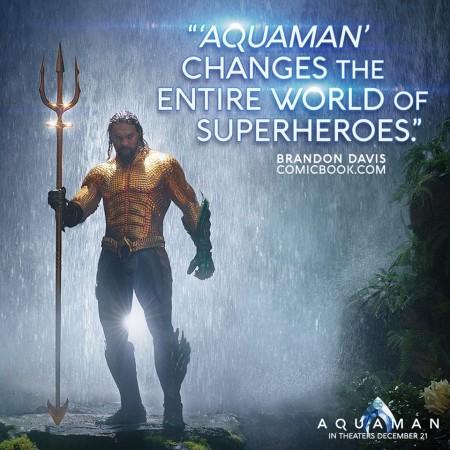 Game of Thrones star Jason Momoa's Aquaman earned a whopping $30.7 million at its third weekend and now, movie experts are certain that DC's superhero movie is going to join the big leagues. Aquaman is almost certain to earn over $1 billion at the box office after Marvel's Black Panther and Avengers: Infinity War.
Fans from around the world are trying their best to let Aquaman earn over $1 billion at the box-office. In North America and other major territories like China, the film has stayed on top from the last three straight weeks. As earlier reported, DC's Aquaman has earned around $260 million at the box-office in North America and over $940.7 million at the worldwide collection.
After earning over $900 million, Aquaman has already surged past previous DC Extended Universe movies like Dawn of Justice, Wonder Woman, Suicide Squad, Justice League, and Man of Steel.
Meanwhile, Aquaman movie star Jason Momoa has thanked his millions of fans for making his superhero movie #1 movie in the world. Earlier today, Momoa posted a video on his Instagram handle in which he is seen thanking his fan for all the love and support they have given to him and the film. In addition to this, he also encouraged his fans to watch his DC movie for one more time. In the caption he wrote, "Mahalo everyone for making Aquaman the number one movie in the world. I love you guys. I'm so proud of this movie and everyone that worked on it CHEEEEEHUUUUUUUU Aloha."
You can watch the video here:
Aquaman movie director, James Wan recently discussed his movie with the Aquaman's portrayal in the earlier release Justice League. In Zack Snyder's Justice League, Arthur Curry aka Aquaman has already made his presence and as per Wan, "it was important for me to obviously pay a respect to where he was left off in [Justice League], but then allow me the freedom to take him to where I want to take him at the end of the movie. My hero goes on this hero's journey to become someone very different than where he started. That was something that was very important for me. But the movie I want to make, that I was allowed that freedom to do that," reports ComicBook.com.