A plethora of cricketers around the world were sold vociferously over two days of the IPL Auction 2018. Even Indian Premier League (IPL) franchisee representatives like Jhanvi Mehta (KKR), Preity Zinta (KXIP) and Akash Ambani (MI) had no option but to remain active throughout the proceedings to continue bidding for the rightful players.
None of these would have been possible if the most important man of the auction would not have been there. We are indeed referring to the famed Welsh auctioneer who has become almost an integral figure of the cricket league over the last decade.
The much adored Richard Madley.
The sexagenarian is known for his unstoppable vocal chords, his brilliant timing of humour and the man who can make the sweetest of thumps with the gavel (the auction hammer).
Richard, who is also an auction expert for the BBC game show Bargain Hunt, left India on Monday with a hope that the Board of Control for Cricket in India (BCCI) invites him again for the IPL auction proceedings next year. And why won't he be?
This man has been ruling the D-Day for the last ten years, since 2007.
Richard took some time out to answer fans on Twitter who are curious to know how he continues to keep his vocal chords active for hours and hours.
"A vigilant exercise regime and an abstinence from alcohol helps me build up the stamina to perform for two days," says Richard on Twitter. "I have to maintain an element of control, pace, clarity and delivery of a style I have developed over time.
"It is a skill I have developed over 10 years and I do prepare thoroughly for the auction each year.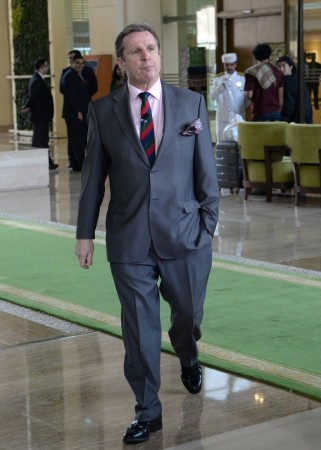 "To conduct the IPL Auction is the highlight of my year. To have done so 11 times is the highlight of my career. I am made so welcome in your wonderful country [India]. Thank you BCCI for extending the invitation every year.
"I try to conduct the auction in a professional manner - being firm , fair & friendly. Retirement is not in my sights just yet!"
Richard was also asked the steps to become an auctioneer.
"No short cuts to becoming an auctioneer," he replied another Twitter user. "I started as a porter sweeping the floors of a London auction house. I dedicated my life to becoming the best auctioneer I could through study, practice & hard work."