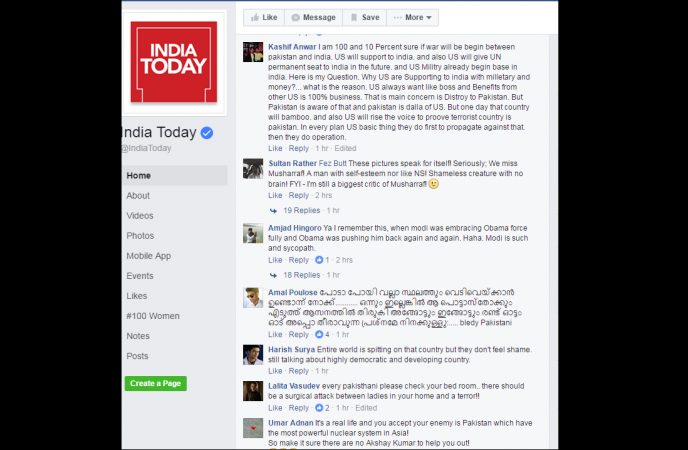 After the verbal onslaught of Keralites on the Facebook page of Pakistan's Lieutenant General Asim Saleem Bajwa hit the headlines, it looks like a group of Pakistanis are on a mission to hit back by posting nasty comments on the Facebook pages of Indian news websites.
The negative reactions started pouring in, mainly on the Facebook page of India Today, a day after India announced the surgical strikes carried out against terror launch pads across the Line of Control (LoC) on Thursday. However, Pakistan's Director-General of the Inter-Services Public Relations (ISPR), Lieutenant General Bajwa, claims that it is fabricated news made up by the Indian Army.
Also read: Pakistan's General Asim Bajwa slams India's surgical attack, faces verbal onslaught from Keralites on Facebook
Most of the comments are being posted on the Facebook post of news websites that shared the photos of Prime Minister Narendra Modi and United States President Barack Obama's meeting to mark the third annual 'US-India Partnership Day' on September 30.
Here are few comments posted on the Facebook page of India Today by Pakistanis:
Bash Ahmed
In 120 million the 50 million are hungry....20 millions are naked...10 millions are kids....10 millions are she males...rest of it are toilet less
Sultan Rather Fez Butt
These pictures speak for itself! Seriously; We miss Musharraf! A man with self-esteem nor like NS! Shameless creature with no brain! FYI - I'm still a biggest critic of Musharraf!
Ptv sport
Indians are u that stupid
Modi wants his face saving.r u guys foolish if indian army entered in pak than there should have more than 1 evidence with indian army to show to their own ppl.pak army clearly showed video of their attacks.modi is just making u guys fool by making dancers by your jawans.sorry your dance cannot b evidence of ur syrgicsl strike.plz think