India cricket team captain Virat Kohli is the man to watch out for Australia in the ongoing India vs Australia 2017 test series in India. He might be injured and a bit out of form, but you can never find him backing down. Won't be too risky to say that the Aussies are actually terrorised by Kohli in every way.
A bit of mocking also cannot halt the sensational run of charismatic Kohli and the Australia team are knowing that very well. Nevertheless, the Australian media, especially The Daily Telegraph, no doubt, keep trying their cheap antics to criticise or instil fear in Kohli, but well, we all know what mettle he is made of.
After the Australian publication called him a 'dictator,' they took the next level to intimidate Kohli by calling him 'Donald Trump.' Yes, the 45th President of the United States of America, who, to be honest, has more traits of becoming a superb reality TV star than...the POTUS!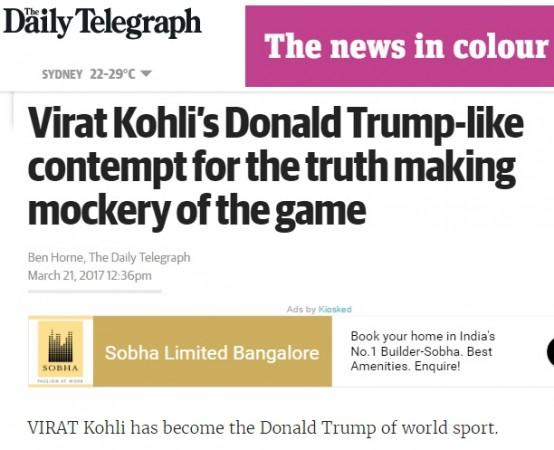 The Indian captain is a law unto himself with no one – not even the ICC or his own board – holding him accountable for his continual perpetuation of fake news.
- The Daily Telegraph on Kohli
So, why the Kohli and Trump similarity?
Well, it all started after an error on the part of Indian cricket broadcasters Star Sports during the India vs Australia 3rd Test in Ranchi. After Kohli's shoulder injury on Day 1, it was Glenn Maxwell's turn to mock the Indian skipper's injury. While the cameras clearly zoomed in on Maxwell doing the cheap act, Steve Smith's name was also included as to mocking Kohli.
The problem was that Star Sports didn't showcase the footage from the correct angle and the truth came out later after it was shown that it was Peter Handscomb's hand on Smith's shoulder and the Aussie captain never really mocked Kohli.
However, by then, Indian cricket fans started criticising the Australians vehemently.
Now, the Daily Telegraph refers it to as a "FAKE NEWS" -- a term made popular by Trump in recent times.
The Australian newspaper said that Kohli didn't even care to apologise to Smith and the Indian captain was "responsible" for the error done by the Indian broadcasters to target the Australia captain.
Kohli's celebration following David Warner's dismissal on Day 4 of the 3rd Test by "ferociously parading past the Australian dressing room clasping his shoulder" was also a cheap tactic by Kohli, as per the Australian newspaper.