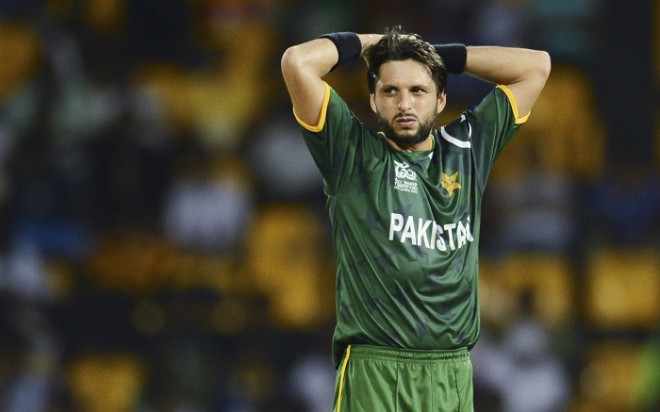 Pakistani T20 skipper Shahid Afridi has said that he stands by the comments he made regarding the Pakistan cricket team getting more affection in the India than their own country. The veteran all-rounder added that the remarks were made in a positive way, as a respect to the Indian fans.
Afridi, who landed with his team in Kolkata prior to the ICC WT20, Saturday evening, has reportedly been served a legal notice by senior Pakistani advocate Azhar Saddique for "committing treason" and "hurting sentiments" of Pakistanis, according to the Press Trust of India.
The 36-year-old had mentioned that the Pakistan cricket team "have been loved by the Indian crowd more than the crowd back home in Pakistan," another PTI report stated.
The remarks were soon slammed by Pakistan cricket great Javed Miandad, who stated that Afridi should be "ashamed" for saying such things and added that the team should just focus on playing well in India and not make "unnecessary comments."
Afridi recorded an audio soon after and confirmed that the comments were made in a positive light and they were meant to showcase the world that cricket has strengthened Indo-Pak relations over the years.
"We have always enjoyed playing in India and have been loved by Indian crowds more than crowds back home in Pakistan," Afridi was quoted as saying by PTI in the audio. "I am not just captain of the Pakistan cricket team but I am representing all the Pakistani people here and I think if one looks at my comment in a positive way then it is obvious that I did not mean to say that anybody else would matter more to me than Pakistani fans. My whole identity comes from Pakistan.
"I was asked a question by a journalist and I tried to answer it in a positive way because I know whatever I say would be heard all across the world. So I was merely trying to give a positive message to the rest of the world that we enjoy a lot when we play in India.
"Whether it is Wasim Akram, Waqar Younis or Inzamam-ul-Haq, they will also say that they get a lot of respect here because cricket is literally worshipped in India. You can even ask Imran bhai, cricket is a religion here.
"I merely gave a diplomatic statement so that the message that goes to the world is that cricket brings people together and Indo-Pak relations have always got a boost because of cricket.
"I think I made a positive statement on behalf of my country but if somebody looks at it negatively, he would get a negative message. But my intention was positive," he added.
Saddique, meanwhile, has mentioned that he has already taken up the matter with PCB Chairman Shaharyar Khan and added that Afridi doesn't deserve forgiveness if Pakistan loses against India in their ICC World T20 match at the Eden Gardens, March 19.
"I have served a legal notice on Shahid Afridi and 'de facto' chairman of Pakistan Cricket Board Najam Sethi for their love for India over Pakistan. I have also written to PCB chairman Shahryar Khan to launch an inquiry into the statement of Afridi in India," Saddique said.
"Afridi has let down the whole Pakistani nation for expressing more love for India than Pakistan. In fact, he has committed treason. Now who will ensure that Pakistani team will play against India in Kolkata in T20 match to win?
"God forbid if Pakistan loses [the] match against India, keeping in view Afridi's 'pro-India' statement, nobody here will forgive him ever," the senior lawyer added.