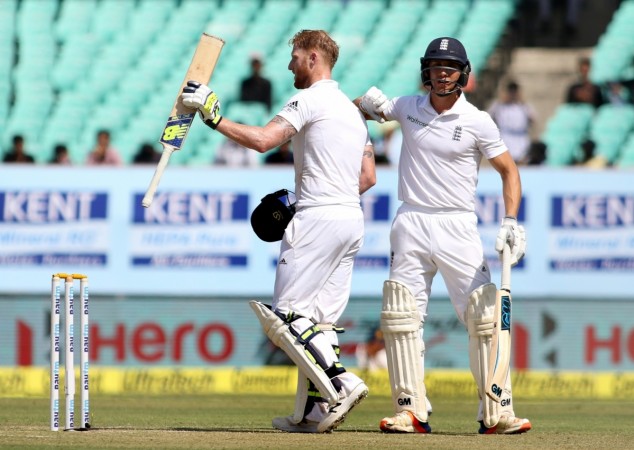 Okay, Day 2 of the ongoing first Test match between India and England in Rajkot has come to an end with the visitors having a massive 474-run lead. The Alastair Cook-led side has made a bright start to the Test match and that isn't a surprise.
England were not an easy opponent by any means and we all knew about that. If they get in the momentum, they are frustrating to tackle, we also knew that. But the Board of Control for Cricket in India (BCCI) giving them an undue advantage in the Test match, we never knew about that. A little check into social media and we witness several tweets from Indian cricket lovers blaming the BCCI for this particular reason.
But why? Blame it all on Niranjan Shah, secretary of the Saurashtra Cricket Association, who designed the Khanderi Cricket Stadium in Rajkot on the lines of Adelaide Oval and Lord's. The roofs of the stadium in Rajkot resemble that of the Oval cricket stadium in London, while the press box resembles that one at Lord's cricket ground.
Established in 2008, the first ever Test match is being hosted in the stadium.
"I didn't think there was an architect who could do what I was thinking of," recalled Niranjan, a former Indian first-class cricketer, to Cricbuzz. "I hired an architect from Rajkot. I gave him the idea and he just had to put it on paper. The main thing was the structural engineer. Because so many people are coming, so many people are watching on TV.
"You have to take the whole thing seriously. I wanted that whenever there is a photograph of the Rajkot stadium, it should look like Lord's. So I made the press box look like Lord's," he had mentioned in an interview.
Well, the plan was surely brilliant but little did he know that it will backfire and he will face criticism from the Indian cricket fans itself for making England feel at home in India and also "helping" Ben Stokes in joining Joe Root and Moeen Ali on picking up centuries each in their first innings.
Here is what twitterati have been saying
England playing, like they are playing at the Lord's. Does that Lord's lookalike media centre at Rajkot the motivation? #IndvsEng

— Uzair Hasan Rizvi (@RizviUzair) November 9, 2016
England have had three individual hundreds in an innings vs India four times

Kanpur, 1961
Lord's, 1974
Lord's, 1990
Rajkot, 2016

— Peter Miller (@TheCricketGeek) November 10, 2016
I think the biggest controversy of the day is how much the Rajkot stadium copies Lord's #INDvENG

— Arch (@_Illuminarchie) November 9, 2016