Moeen Ali got to his hundred, India continued to be pathetic on the field, giving away boundaries and dropping catches at will, and Ben Stokes took over, with a little bit of help from Jonny Bairstow, as England bulged that score to a point where the home team can rule themselves out of going 1-0 up in this series with a victory in this first Test match in Rajkot.
The one thing Virat Kohli would have demanded before the start of play would have been 100% commitment on the field, but that dropping and misfielding virus seems to have spread overnight and gripped the entire team.
Gautam Gambhir and Ravindra Jadeja, the best fielder in this India team, failed to stop boundaries right at the beginning, England got off to a fast start, and when India did manage to get the breakthrough of Ali, Wriddhiman Saha let the away team off the hook again, dropping two catches which would have seen Stokes, on 60 and 61 at the time, dismissed.
As a result of India's ineptitude in the field, England racked up 139 runs in 30 overs in the first session of day two, taking the overall first innings score to 450 for six in 123 overs. That total bulged to 537 all out in 159.3 overs, with Stokes (128, 235b, 13x4, 2x6) becoming the third centurion for England in this Test match.
In reply, India began in solid fashion, seeing out the 23 overs to go to stumps on 63/0, with Murali Vijay (25, 70b, 4x4) and Gambhir (28, 68b, 4x4) doing their jobs well.
India can pretty much forget about trying to win the game now, it will be all about damage limitation and then when they come out to bat, showing some gumption and fight, something they failed to do while fielding.
It won't be easy, because the wicket has shown some signs of life. There was a bit of sharp turn, every now and then, for R Ashwin, while the ball is reversing quite early, with Umesh Yadav, the unlucky bowler for both of Saha's dropped catches, making it four just for him in this match, bringing out those skills to great effect.
One bowler who did not have any effect was Amit Mishra. The leg-spinner only bowled 10 overs on day one, and maybe Anil Kumble had a word in Kohli's ear about giving Mishra more of a bowl on day two. He certainly got that, with the veteran getting eight straight overs to make an impact. But, the result was pretty much the same, if not worse.
Mishra only bowled so many overs yesterday because he was failing to hit the right lengths or understand what pace to bowl at on this wicket, and there was no difference on Thursday as well. The leg-spinner kept bowling it too slow, making it easy for the batsmen to read him and tonk him for fours and sixes – he gave away 37 runs in his eight overs, without even remotely looking like picking up a wicket.
Ashwin created a problem or two every now and then, particularly to Stokes, but it wasn't often enough and the left-hander was always capable of easing the pressure with a big shot.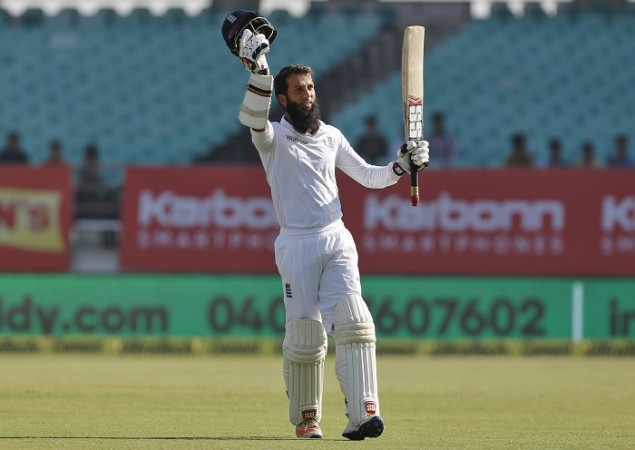 Once Ali (117, 213b, 13x4), after completing his fourth Test hundred, fell early in the day, bowled while leaving an angled-in ball from Mohammed Shami, fit to bowl today, Stokes, with a little help from Saha courtesy those two dropped catches, took over beautifully. Bairstow (46, 57b, 5x4, 2x6) gave the all-rounder great company, before he fell to Shami, with Saha finally completing a catch.
The two added 99 runs together in just over 21 overs and just like that any hopes India might have had of making a game of this Test match was snuffed out.
In the second session, India picked up a couple of wickets relatively quickly, but then Stokes continued his run-making way, with Zafar Ansari holding fort at the other end quite well to frustrate the home team even more.
Stokes did chance his arm, and was quite lucky, with a lot of his false strokes falling just away from the fielders, but it was luck that he more than deserved, as he moved on to his fourth Test century, and a bit more after that, before strangling one down the legside off Umesh Yadav, which led to the second session being extended by half an hour, considering England only had a wicket left.
Ansari (32, 83b, 3x4) and Stuart Broad (6 n.o., 16b) held on for nearly half an hour together, before Mishra trapped the former in front to end the innings.
Scores: England: First innings: 537 all out in 159.3 overs.
Overnight score: 311/4 in 93 overs.
India: First innings: 63/0 in 23 overs, trail by 474 runs.
Bowling: India: Mohammed Shami 28.1-5-65-2; Umesh Yadav 31.5-3-112-2; R Ashwin 46-3-167-2; Ravindra Jadeja 30-4-86-3; Amit Mishra 23.3-3-98-1.
England: Stuart Broad 5-1-20-0; Chris Woakes 7-2-17-0; Moeen Ali 6-2-6-0; Zafar Ansari 3-0-3-0; Adil Rashid 2-0-8-0.
Fall of wickets: England: 47/1, Alastair Cook (15.1 overs); 76/2, Haseeb Hameed (26.3 overs); 102/3, Ben Duckett (32.3 overs); 281/4, Joe Root (80.5 overs); 343/5, Moeen Ali (99.4 overs); 442/6, Jonny Bairstow (120.5 overs); 451/7, Chris Woakes (123.4 overs); 465/8, Adil Rashid (130 overs); 517/9, Ben Stokes (152.5 overs); 537/10, Zafar Ansari (159.3 overs).