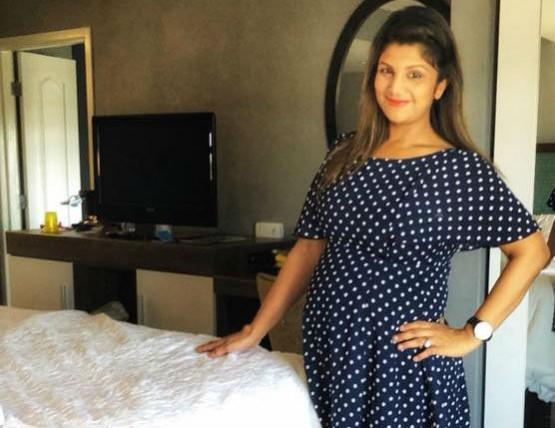 Actress Rambha, who had hit the headlines over her rumoured trouble in her marriage, has a good news for all her fans. The glamorous actress is ready to welcome a new member in her family for one more time!
Yes, Rambha is pregnant with her third child and she has shown her baby bump in a new photo. The actress herself announced the news on her Facebook account and wrote, "On this very happy moment I wish to share my happy news to all my loved ones around the world that I am pregnant with our baby number 3 showing off my pregnancy baby bump picture proudly:))I cannot express my bundles of joyplease pray for me and my family [sic]".
The 39-year old is already the mother of Laanya, (born in January 2011), and Sasha (born in March 2015). She delivered both the babies in Toronto.
Rambha tied the knot with Canada-based businessman Indran Pathmanathan in 2010. After the marriage, the actress bid goodbye to her acting career and settled in Toronto with her husband. She was also helping him in his business.
However, her relationship with her husband was rumoured to be strained at some point of time. In fact, he had applied for the divorce, but Rambha moved to a family court in Chennai requesting to restore her conjugal rights.
The actress reportedly mentioned in her petition that she wants to live with her husband, thereby invoking section 9 of the Hindu Marriage Act. Finally, the couple came for a compromise and sorted out their differences.
She was a popular face during the 1990s and 2000s. Language had never been a barrier to her as she had acted in all the leading Indian film industries including Tamil, Telugu, Kannada, Malayalam, Bhojpuri and Hindi.