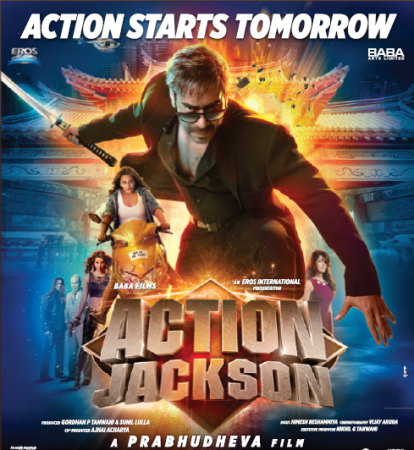 Big-ticket films often garner a lot of funny tweets from viewers, when the makers fail to meet the expectations that they create before their release. Recent releases like "Humshakals", "Happy New Year" and "Super Nani" are some of the films that have tasted the wrath of the film-goers. Now "Action Jackson" is joining their bandwagon.
Released in theatres on 5 November, "Action Jackson" has garnered mixed response from the viewers. Its promos had created lot of expectations among the film-goers, but the movie has failed to meet the expectations. Several disappointed movie buffs took to their Twitter pages after watching the film and made sarcastic remarks.
Read Funny Tweets about "Action Jackson" Posted by Film-Goers:
Vivek Sharma
With 2 Ajays in #ActionJackson means it is Rowdy Rathore 2. Movie is jeweled with no story, cliche dialogues & actress running to c naked AJ Prabhudeva comes with the same movie every year but with different actors Wanted, Rowdy Rathore, RRajkumar & now #ActionJackson
Abdulla M
#ActionJackson @AJTheMovie is an AJ- Abusive Joke on audience that @ajaydevgn can't afford to deliver annually after Himmatwala last year.
Amod Mehra
Na commitment Na appointment... #ActionJackson is Only pure PUNISHMENT !! AJ is PJ.. time for Saif Emran & Ajay to reinvent..
Dhunji S
Prabhu Deva has a nice formula of making the same film with a different film star from time to time #ActionJackson
Krantee
Need One #ActionJackson for our Indian Media who just blow out of Proportion, Dili Main Giri barf
Deepak
Watched #ActionJackson Now its time to go with PK to his planet
Manasi Rawal
Is just me or is Sonakshi Sinha's choice of movies is reaching the disgust level of some unimaginable level? #ActionJackson #Eww
Amit Kumar
#ActionJackson How many times Ajay Devgan is going to encash Singham image but maybe thats how our audiences r content dont matters to them.
NyooTV
Why did Ajay Devgn undergo intensive martial arts training? He'll be seen in bare body performing stylish sword fighting in #ActionJackson.
Aliya
#ActionJackson makes u want to pull every stand of hair from ur head. Its a film that shouldnt be watched - Indicine LOL
Hariom kumar
Dear Sonakshi sinha evry time yu cum on screen yu smirk..dance..again yu smirk..make faces..again yu dance way too repetitive #ActionJackson
Keerthi L
Okay #ActionJackson Vs #Humshakals it is.. lookin forward to see which one gona steal the show at ghanta awards this year
Keyur Seta
#ActionJackson does the impossible! It makes HUMSHAKALS look better!
Pranay Vyas
I am sure script of #ActionJackson is two lines and was written on tissue during a toilet break