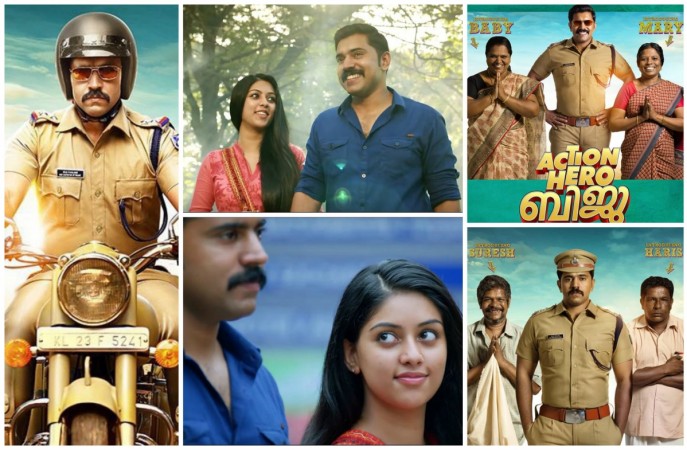 After blockbuster "Premam", Nivin Pauly is all set to rule the Kerala box office once again with his latest release "Action Hero Biju", which is the directorial venture of Abrid Shine. The movie has Anu Emmanuel opposite the young actor.
The comedy entertainer, which shows the day-to-day incidents in the life of a police officer named SI Biju Paulose of Janamaithri Police Station, has been receiving tremendous response from critics and audiences alike. However, "Action Hero Biju" is not like the usual mass action thrillers by superstars, but is a realistic cop story that has a fresh story to it.
Read more: Action Hero Biju IBTimes India Review
Read More: Action Hero Biju Audience Review
The Nivin starrer was released in almost 131 screens in Kerala alone on Thursday and has been released in 116 theatres outside Kerala and more than 10 screens in the USA on Friday. The movie has been jointly scripted by Abrid and Muhammad Shafeeq. While the background score is by Rajesh Murugesan, the songs have been composed by Jerry Amaldev. "Action Hero Biju" is the debut production venture of Nivin under his home production banner Pauly Jr Pictures along with Abrid Shine.
Read More: 5 reasons to watch Action Hero Biju
Celebrities including actors Aju Varghese, Ahmed Sidhique, directors Unnikrishnan Bhaskaran Pillai, Basil Joseph, Roopesh Peethambaran, Dipil Dev, script writers Vivek Ranjit and Arun Kunjunny have lauded the cast and crew of "Action Hero Biju".
Read More: Action Hero Biju critics review
Check out celebrity reviews on "Action Hero Biju" below:
Sreejith IPS, IG
Dear Abrid Shine,
I am Sreejith , an IPS officer of IG rank from KERALA . Watched your movie "Action Hero Biju" and should say that I am thoroughly impressed. You have succeeded in portraying the real professional life of an ordinary police officer and the way in which his personal commitments fall short in a very appealing and positive manner. I am sure that a lot hard work and personal indulgence has gone into the making of this wonderful movie and the effort made for the same by you and your team is quite laudable. Hence, I hereby take this opportunity to whole heartedly congratulate you and your team for the extraordinary effort and expect more such ventures from you in future.
Regards, SREEJITH
Hats off, Abrid Shine and Nivin Pauly! Action Hero Biju is a timely tale told with flourish. It took me through a whole lot of emotions, making me laugh, cry and think at the same time. Be it Nivin, Rohini or Suraj Venjaramoodu, each and every artiste has lived the character. As a film lover, I'm disheartened by the negative publicity surrounding this gem of a movie.
I would definitely rank it as one of the best movies of recent times.
Merin Joseph IPS
Action Hero Biju- wow, what a movie. Finally, justice done to Kerala Police on the big screen. Why ? Aptly highlights the work we do on a daily basis without theatrical exaggeration, unrealistic glamorisation or dilution of the seriousness of the issues police deals with. Life, death, emotions, law- yes dear folks, that's what we grapple with. Go and catch it if you haven't already. Hoping the social messages stay imprinted on the public consciousness for a long time to come. Cheers!
Vineeth Sreenivasan
I went to see Action Hero Biju after listening to extreme opinions and reviews. I have to say i thoroughly enjoyed the film.. It was a whole new experience for me.. I really appreciate ABRID SHINE'S guts in attempting a screenplay that's driven by incidents in a policeman's life rather than following a particular plot.. Quite honestly, i don't think i would dare to experiment something like that. Also, the way he has made every actor perform is amazing. Suraj ettan surprised the entire crowd with a very small but powerful performance. I personally loved the sequence where BIJU PAULOSE lashes out against a few teenagers for getting themselves into "certain habits."
Nivin, i have to tell u this.. In future, u r going to be proud as a producer for making a movie like this. This movie will be appreciated by various levels of audience even after its run in theatres. Action Hero Biju is not Premam. Action Hero Biju is not another formula Cop Story u have already seen. If u r ready to watch something new; this is going to be a kickass movie experience for u..

Sou Sadanandan
‪#‎Biju‬ is a real time cop and ‪#‎Mahesh‬ is a common man's photographer. One lives in Cochin and the other lives in Kattapana. One chose to become a police officer another by choice runs the photo studio. One does arranged marriage and the other is a full on romeo. The two are differnt. How can one even compare their lives? I loved the two guys and the lives they live on reel. Best part is this last weekend we got some quality real time on reel. ‪#‎cinema‬‪#‎passion‬ ‪#‎joy‬ kudoss to both teams
Basil Joseph
Kudos to the experiment and effort made by the director spending his own money being one of the producers.
Unnikrishnan Bhaskaran Pillai
Action Hero Biju... It is witty, interesting, unconventional, emotional and highly realistic. Go watch it, you will love it... Ebrid Shine and Nivin, Congrats!!! And what a stunning performance by Suraj Venjaramood.... What an actor! A big hug!!!
Aju Varghese
Action Hero Biju in one word is the best tribute to the whole Kerala Police Force. It's a brilliant attempt to show case the REAL life of POLICE. Salute the two men behind this Abrid Shine & Nivin Pauly, coz at this stage where they could easily make a REEL life "super hero Policing" they chose to show us HOW we the common man are truly served by our force. In short, below shares is the best remark I found that speaks on this remarkable movie. Suraj Venjaramoodu ettan, Meghanadhan ettan, Joju ettan, Jayasree mol and the whole actors who gave such amazing natural performance
Ahmed Sidhique
Nivin Pauly as Biju is Real. Shows how Kerala Police really is and can be. In short, Go for it grin emoticon God Spede
Action Hero Biju is filled with entertaining situations and the movie is a good watch! Many new actors did a great job and the show stealer was Suraj Venjaramoodu (Respect Sir, it was a treat to watch you perform) A standing Ovation for the movie's editor Manoj!! Your hard work is evident in the film, kudos to you sir

Vivek Ranjit
Action Hero Biju - Abrid Shine shows us a police officer hitherto unseen in the movies we have watched and takes us through his daily routine and the regular cases and petitions and other incidents that can happen in a Janamaithri police station. Rather than going for a hero v/s villain plot or a series of usual cop-movie cliches, many sequences in this movie are a refreshing change from what we have seen in cop-movies made so far. The director explores many humorous instances and situations that can happen in a police station and also the daily turmoil a police officer has to go through - having fun one minute and seeing death closely in the next and many such fluctuating emotions. Nivin Pauly effectively plays a young, regular sub-inspector who handles each case that appears before him with the same commitment. He shines in the humorous portions as usual and behaves effectively and maturely otherwise, presenting a different police hero - someone who seems like anyone among us, rather than a larger than life cop. Suraj Venjaramoodu is excellent and makes your eyes moist with just two scenes. One of the finest performances I've seen in recent times. Joju George is excellent and its great to see him back in action after a short gap. Meghanadhan, Sohan Seenulal, Jude Anthany Joseph, Kalabhavan Prajod, Devi Ajith, Rony David Raj, Alexander Prasanth are all very effective. But the stronger applause should go to the many new faces - especially the two ladies Baby & Mary and the drunkard singer. They were simply superb! With minimal background score, authentic atmosphere, natural humor, great sync sound and without going for major dramatics & heroism (except in the end), Action Hero Biju scores in portraying the everyday lives of many policemen, especially Biju whose heroism comes from the small things he does. Had fun subtitling this film, and it will open with English subtitles outside Kerala from tomorrow.
Nithin Raj
@Action Hero Biju | @brid shining & Nivin pwolliii!! This one is something which you ll never expect to be.. In general We do hear this term "different" used by the cast an crew of many movies but here is this movie which never claimed anything but showed us how to make a different cop movie hats off to Abrid & Nivin pwolliii. when you watch the movie you feel like your inside a police station with Biju.. Naturalism in the movie is taken to the next level with the approach to even live sounds.. Some great performance by fresher's who don't feel newcomers.. And ‪#‎SurajVenjaramoodu‬ annan polichadikki'!! He proved it again to the normal audience like us why he won the national award.. So overall the movie progresses with beautiful natural sequences which is amazingly knitted together with out any abrupt feel to it.. So, Guys do catch this flick in your nearest theaters.
Dipil Dev
ACTION HERO BIJU.. is a clean entertainer for people of all age group. Good work from the director Abrid Shine. And also Nivin Pauly done a fabulous performance in uniform. Keep going Brother. Most of the scenes are very natural. songs are different and interesting, background score was superb. I just got out of the theatre with a lot of happiness.. Congratulations Director Abrid Shine, and the whole crew. Movie is completely a laugh riot entertainer worth watch ! So friends don't miss this one.
Arun Kunjunny
Action Hero Biju is a movie which is to my liking for the sheer making style. There are not major events which drives the movie, no over-the-top characters who dish out explosive dialogues, no visual extravaganza in terms of camera work but still it leaves a pleasant feeling within. Except for the main protagonist and his 4 police colleagues, nobody takes screen space for more than 5 minutes. The interior of the SI's room and the police station does take more than half of the time in terms of location too. But none of this gives you a feeling of boredom or feel like the sequence is artificially collated. SI Biju is a normal police officer and the movie stays true to the purpose of showing the life of a police officer in the flesh. He might not be Bharat Chandran IPS but he definitely holds his own. Abrid as a film maker gets my respect and the movie has inspired me to believe in my movie. Malayalam cinema is indeed taking a turn for the better and my admiration to all these younger crop of directors who are leading the march to break the mould. Congrats to Nivin on doing a nice movie as a producer first time around. Reality might not be entertaining for some, but it did keep me personally interested.