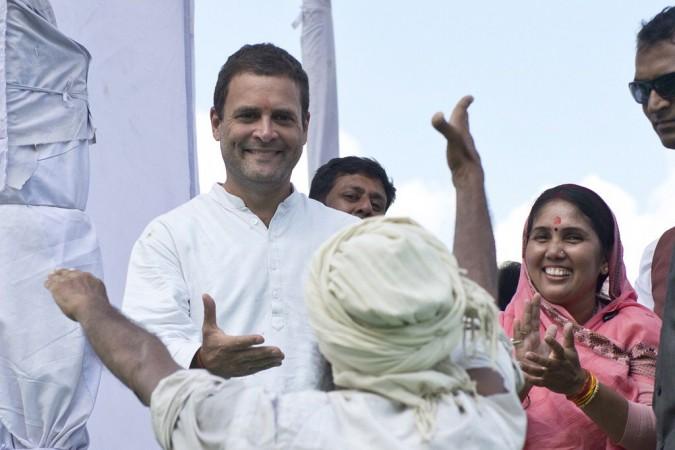 Congress vice-president Rahul Gandhi lashed out at Prime Minister Narendra Modi on Wednesday at the party's Jan Vedna Sammelan saying the PM had caused misfortune to the people of India and destroyed the core spirit of the country through his demonetisation move announced on November 8 last year. He also said that "'acche din' (good days) will come only when the Congress Party comes back to power in 2019."
"The BJP and Modi keep asking what the Congress Party has done in the last 70 years. I would like to say that we didn't do in 70 years what the BJP under PM Modi has done in just two and a half years – destroy India's highly respected institution," Gandhi said, adding that the spirit of India — the judiciary and the RBI and its workers — has been destroyed by PM Modi and RSS.
"Acche Din will return to India only when the Congress comes back to power in 2019. People of country are wondering when 'Acche din is going to come'. I'll tell them it will come when Congress comes to power again. Earlier, the BJP had mocked MGNREGA, but it is now saving lives," Gandhi added.
Gandhi also said that PM Modi had destroyed the financial backbone of the nation through demonetisation and also raised questions as to why automobile sales had gone down to such a large extent.
"Auto sales are at its lowest in 16 years. The auto industry is the backbone of Make In India — will Modi say how the industry has failed? Demonetisation is an excuse. PM Modi knows that he won't be able to hide in the garb of Yoga and Make in India. When he got worried, he broke the backbone of the Indian economy (through demonetisation). Almost every economist of repute has rebuked demonetisation."
Gandhi also referred to Modi's Swacch Bharat Abhiyan saying: "Two-and-a-half years ago, Modi government had said they will clean India. They gave brooms to everyone. It used to be fashionable. It continued for some time, then they forgot about it."
He said that, for the first time in history, the PM of this country was being "ridiculed." He added: "The Prime Minister needs to spend sometime with the poor and the farmers of the country and ask them why are people suddenly running to villages? Modi claims he will transform India, but people have only lost their livelihood and lives. Is that transformation?"
Gandhi also referred to the media's coverage of demonetisation and said that several mediapersons had told him that they "want to say something but they can't" since they "are under constraints."
Former PM Manmohan Singh also addressed the gathering at the Jan Vedna Sammelan and criticised the demonetisation move saying: "Demonetisation has hurt the country. Things have gone from bad to worse, but the worse is yet to come. I've said it before in Parliament... demonetisation will have an impact on the economy. Some rating agencies have said the GDP could slow down to 6.6 percent. Modi ji keeps saying he's out to transform the economy. We now know the beginning of the end has come. His claims are hollow."
Former finance minister P Chidamabaram also lashed out at PM Modi claiming that the GDP of the country would be adversely affected and also questioned as to who would compensate for the loss of life and livelihood due to PM Modi's decision.
"I demand that the government pay compensation to the daily wage workers who lost their livelihoods," Chidamabaram said, adding that 45 crore people lost their livelihood for 70 days "due to one man's decision."