Thanks to the stardom of grandparents and parents, Aaradhya Bachchan, is the most famous baby in Bollywood with every little happening around her becomes big news.
Paparazzi has been trying to take the photo of former Miss World Aishwarya Rai's daughter even since she was born, but the Bachchans were too protective.
However, the shutterbugs finally got the chance to capture the smallest member of the Bachchan family on her mother's birthday.
On Thursday, Bollywood diva and former Miss World, Aishwarya Rai Bachchan, was honoured with one of the prestigious civilian awards by the French government on her 39th birthday, but it was her daughter who stole the show at the event.
Beti B, dressed in a white frock and matching floral headband, grabbed everyone's attention as she kept crying constantly at the event.
Aishwarya's family including husband Abhishek, father-in-law Amitabh and her parents were present at the event in Mumbai where the actress received the Knight of the Order of Arts and Letters (Ordre des Arts et des Lettres) on her 39th birthday for her contribution to arts.
The award ceremony, which was supposed to begin at around 7.30 pm, started one hour late at Sofitel hotel in Bandra Kurla Complex, Mumbai.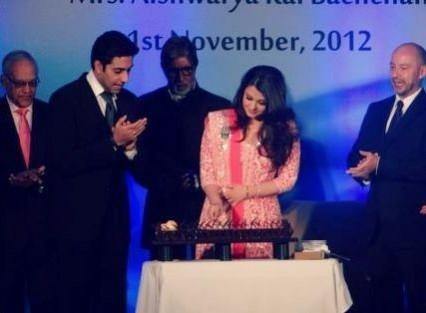 While entering the hall Aish held Aaradhya in her arms. But when the actress was called on stage to receive the honour, Aaradhya started crying which forced her dad Abhishek to carry her outside.
"It gets overwhelming for babies. That's why we get protective. We would love to share our personal moments with all of you, but we tend to take care of our babies," the doting mother said.
"I am realising what it takes to be a mother. Thank you (Abhishek) for giving me such an indefinable experience of being a mother. It surpasses everything," she got a little emotional and said.
Also Read:Aaradhya Gives Amitabh Bachchan 'Endearing Moment of Life', Calls Him 'Dada'