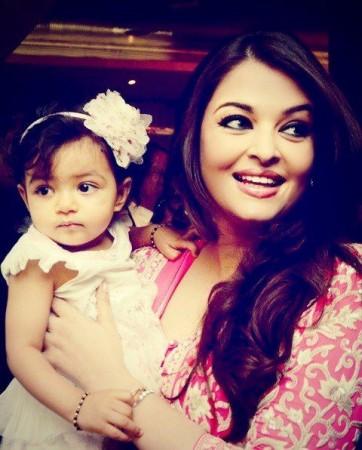 Megastar Amitabh Bachchan may be one of the most respected stars in Bollywood. Despite the fame, it's his granddaughter Aaradhya who brings him true joy.
The 70-year-old actor had been regularly giving his fans updates about Aaradhya. Starting from Aishwarya Rai's pregnancy to the birth of her child, Amitabh reveals almost everything on his Twitter handle.
The actor has now said that Aaradhya calls out "Dada" on seeing him.
"One of the most endearing moments of life ... when your grandchild, without any prompting calls out on seeing you .. DADA !!" Amitabh tweeted.
"Living in the innocence and glory of the little one .. such a joy to hear her learn new words and see her fast developing expressions ... mature and confident .. ! kids of this generation .. start early .. god bless them .. !!" he wrote on his Facebook page.
"The 'little one' now increases her vocals, her recognition of particular individuals, and her actions on what she may desire or not desire. This is perhaps some of the most endearing moments in the lives of children," Amitabh wrote on his blog.
"Then when that was over, spent time with the beautiful love of our lives at the moment - Aaradhya, who begins to be more vocal than before ... ah such a joy ... !!" he said.
What else would a man ask from his granddaughter? Hearing "Dada" without any prompting from the little one has certainly sent Amitabh to cloud nine.