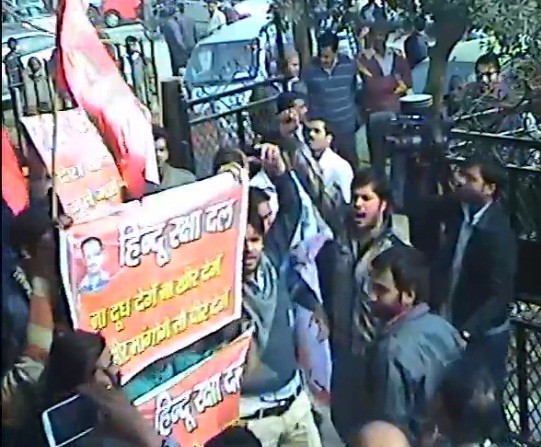 It cannot be said with certainty if it has something to do with the media running amok trying to scan through every step that AAP takes, or the fact the party is still in its infancy facing the storm of political disarray that it does not have the experience to tackle, but the anti-corruption party - which set the whole country on fire with an intense urge for change and that marked a steep ascend into the world of popularity - is quickly dipping itself into the quagmire of a series of controversies which are now threatening to question its credibility as a government.
From a rally that nearly ended in a stampede, to an aggressive minister openly castigating police over their inaction in an alleged drug and prostitute ring, the new government of New Delhi indeed seems to be ferociously speeding, in an urge to quickly sweep away all evils in an instantaneous magical spell.
In all this, the infant government is yet to learn how to be politically correct in an environment where public image has always been more important than doing what one feels is right.
Following are a list of embarrassing facts about the party which tends to suggest that the honeymoon period of Aam Aadmi Party is over:
1. Fleeing a Stampede
The first sign of trouble for the party came when Kejriwal had to flee a town hall meeting, where unrestrained crowds threatened a stampede. He abandoned plans for more meetings, which had been touted as his version of "people power".
Tweets started to flood the micro-blogging site that Kejriwal fled the scene and put the lives of thousands in danger while saving his own.
The question is: Was there no way the situation could have been avoided?
2. Somnath Bharti Shouts Police to Raid 'Drug, Prostitution' Ring
Next, New Delhi law minister Somnath Bharti led a night raid on what he described as the homes of African prostitute gangs and drug dealers, an act that provoked criticism of vigilantism. He was seen at the scene, shouting at the top of his voice with fingers pointed at the police, criticizing their inaction. A senior police officer even warned the politician against "crossing the limit".
Could he have chosen a subtle way to make this done, instead of being so vociferously involved in a night raid himself? Is it a face of changing governance or a governance that still acts through the tactics of activism, and refused to promote itself?
3. Law Minister Naming a Rape Victim
It will surprise everyone that a law minister of a state or a government did not know that it is illegal in his country to name a rape victim.
In a detailed press release that was supposed to condemn the rape of a Danish tourist, who was gang-raped near the New Delhi railway station last week, law minister Bharti named the victim in the very first line of the release, much to the shock of all media houses.
Though he later acknowledged that he had given the name inadvertently, the ship had already sailed by then, and he could not help but let the media question his very credibility as law minister.
4. Kejriwal Saying Drug, Prostitution are Where Tendencies of Rape Begin
As if the law minister's infamous night raid was not enough, Chief Minister Kejriwal himself came under the scanner for a controversial statement. "If you don't arrest drug and sex offenders... this is where tendencies of rape begin," he said.
A series of television talk shows later that night saw confused journalists asking: "How do drugs and prostitution lead to rape?"
The question here is: As the head of a government, should Kejriwal nurture an appropriate and subtle way of speech-making that takes the dignity and prestige his position entails into consideration?
5. Police is 'Highly Compromised Force"?
The angry Chief Minister troubled by the police's 'inaction' called them "a highly compromised force." Critics later condemned the party and the Chief Minister of not having moved forward from the "activists mode" to a "governance mode".
The Delhi Police chief later responded to the statement, saying: "The Delhi Police is capable of protecting people in the city."
An important thing to understand here is that the police reports to the lieutenant Governor and not the state government.
6. Barring Foreign Supermarkets from Setting up Shop
Kejriwal faced criticism within his party after he barred foreign supermarkets from setting up shop in Delhi. It was a blow to Prime Minister Manmohan Singh's efforts to open India's $500-billion retail industry to foreign investors.
High profile AAP member Captain Gopinath criticised Kejriwal government's move, saying it blocked Foreign Direct Investment.
7. 27 Dec 2013: Vinod Kumar Binny's Rebel
In an event that proved as one of the most embarrassing incidents for the party, Vinod Kumar Binny, an AAP MLA from Delhi, rebelled when he did not see his name included among one of the ministers. He has now criticized Kejriwal of being a dictator and cheating people.
The question: How could AAP not know that Binny's aim was to be a minister, and that if he was not given the position, he would be left disgruntled like a child?
8. 5 Jan 2014: 'Referendum in Kashmir' Statement
Senior AAP leader Prashant Bhushan called for Referendum in Kashmir valley to decide whether the Army should be deployed to take care of the internal threats there. The AAP later distanced itself from the statement, saying that Bhushan's statement was his personal view and the party does not endorse it.
How could AAP not have had a careful scanning of things that they can collectively - as a governing party - say or not say to the media?
9. 14 Jan 2014: Somnath Bharti Tempered Proof?
Delhi law minister Somnath Bharti came under fire after a report claimed that he had tried to influence a witness and tamper with evidence in a case he had appeared as lawyer last year.
He reportedly tried to influence a witness and shield an accused, in a fraud case in a CBI court last year.
BJP demanded Bharti's resignation following the allegation.
10. No Realistic Agenda?
The AAP became popular among people as it proved to be an anti-corruption platform which came accompanied with promises of free water and cheaper electricity. A crusader-like personality of Kejriwal who promised to fight all wrong-doings seemed to resonate with voters.
But its incursion into wider national issues has been shaky. It has, in fact, gained an image of a populist party with few realistic economic policies.