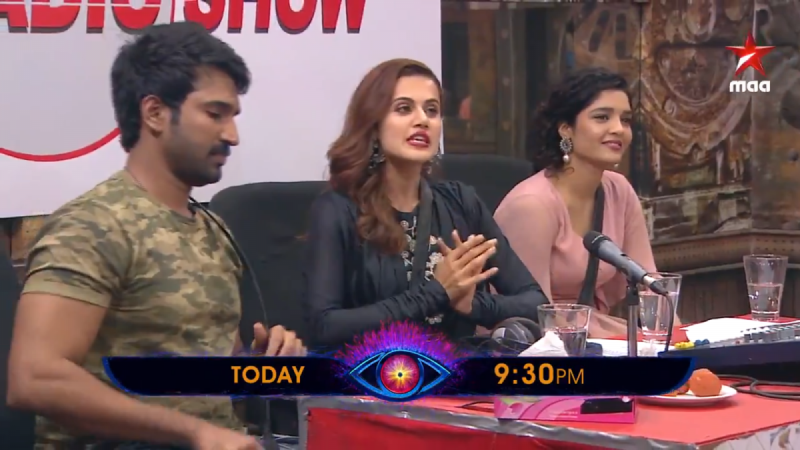 Yesterday's episode of Bigg Boss Telugu 2 saw actors Aadhi Pinisetty, Ritika Singh, and Taapsee Pannu visit the housemates. The trio promoted their movie Neevevaro, which has hit the screens today.
Neevevaro actor Aadhi Pinisetty won accolades and grabbed the attention of the critics in his recent movie Rangasthalam. Aadhi had appeared in Ninnu Kori, which is a rom-com starring Nani and Nivetha Thomas as the lead pair. This time too, Aadhi seems to be set for another hit with the movie Neevevaro.
Taapsee Pannu who has been working in Bollywood stars as one of the heroines besides Aadhi Pinisetty. Ritika Singh has also proved her acting skills in Venkatesh's Guru.
The movie Neevevaro is directed by Harinath and is produced by writer Kona Venkat.
Aadhi Pinisetty, Taapsee Pannu, and Ritika Singh surprised the contestants with their visit. The promos from Star Maa had hinted that the actors were to be on the show yesterday.
The actors of Neevevaro were seen having fun with the housemates. Starting off with a radio concept, the actors had appeared at the activity area of Bigg Boss Telugu 2 house. They had a desk at which they would sit and try to communicate with the Bigg Boss Telugu 2 housemates.
Taapsee Pannu, Aadhi Pinisetty, and Ritika Singh also gave fun tasks to the housemates. They appeared enthusiastic while watching the Bigg Boss Telugu 2 housemates.
Pooja Ramachandran, Ganesh, Geetha Madhuri, and Kaushal were seen performing actively providing a lot of entertainment.
Taapsee Pannu had visited the first season of Bigg Boss Telugu to promote her movie Aanando Brahma.