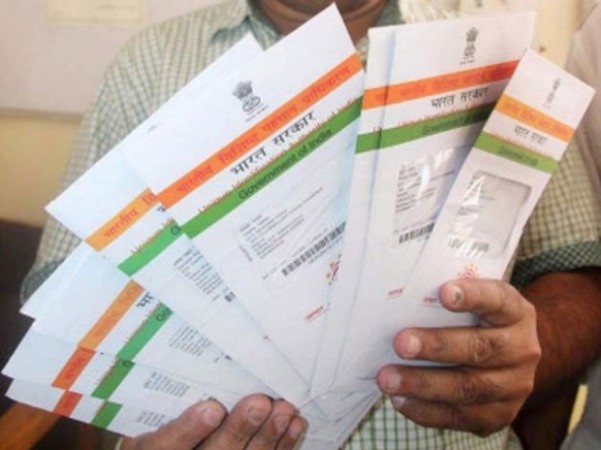 Aadhaar card linking with the mobile number is becoming a nightmare for several. SK Brijwani from Rajasthan's Jaipur city became a victim of a fraud after a man duped him of Rs 1.10 lakh.
Brijwani wanted to link his Aadhaar card with the mobile number after he received a call about the same and asked a youth to help him. On the pretext of helping, the youth deactivated Brijwani's SIM and issued him a new one, Patrika reported.
Also Read: Telangana woman kills husband but Aadhaar nails her lie
The youth then used the old SIM to withdrew Rs 1.10 lakh from his bank account. Brijwani got to know about the fraud next day when he went to the bank and checked the entry of withdrawal.
Brijwani has filed a police complaint now regarding the fraud.
Meanwhile, this is not the first time that a case of fraud has been reported. Last year, Shashwat Gupta from Mumbai shared his ordeal on how he lost Rs 1.3 lakh from his salary account in the name of linking Aadhaar with mobile.
Gupta in his Facebook post said that a fraud claiming to be from Airtel called him to warn about his mobile getting deactivated if not linked with Aadhaar.
"Hi guys! I just lost an amount of Rupees 1.3 lacs from my ICICI Bank salary account. A fraud, claiming to be from Airtel, gave me an ultimatum that Airtel would deactivate my SIM and block my number forever as I had not linked my Aadhar card to my SIM. He urged me to message my SIM card number to 121 (Official Airtel Service Number) and my SIM would be reactivated without any hassle. Little did I know that the fraudster would clone my SIM and loot all my hard earned money and also take away Investments (Fixed Deposits) that I had planned on using during the worst times of my life," Gupta said in his Facebook post.
"The saddest part of this is, after the loot on day one, ICICI Bank was not able to protect the balance amount. Even after 18 hours of raising Service Request ( S/R 497438380 ) and repeated follow-ups on customer care and branch, the Bank was not able to freeze my balance and as a result of which early morning the fraudster was easily able to walk away with the remaining amount."