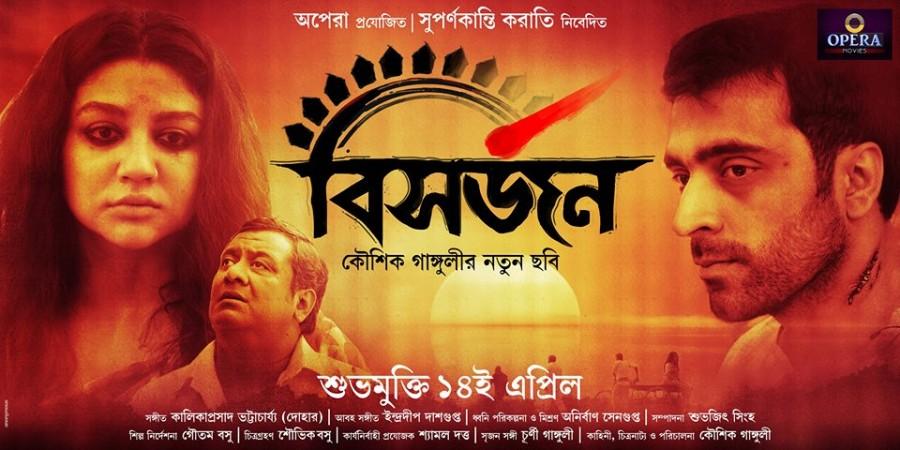 Director Kaushik Ganguly's Bishorjon or Bisarjan has just grabbed the award for Best Bengali Film in the 64th National Film Awards.This Bishorjon is, however, not written by Rabindranath Tagore as it is described in the film poster.
Also read: 64th National Film Awards 2017 announced; Akshay Kumar, Surabhi Lakshmi are best actors; check full winners list
The story of Bishorjon tells "a gripping tale of love beyond the borders" — the India-Bangladesh one. In the movie, Bangladeshi actress Joya Ahsan portrays the character of a Hindu widow who lives in Bangladesh. Another lead actor of the movie, Abir Chatterjee, plays the role of an Indian Muslim. The story will grow eventually as they fall for each other.
According to Calcutta Times, the Ichamati River on the Indo-Bangladesh border becomes a centre of unity on the day of Bijoya Dashami (on the day, idols of Goddess Durga from both the countries are immersed in the river). Director Kaushik Ganguly said: "On that day, the differences between the two countries vanish."
This is not the first film of Kaushik Ganguly working with the actor Abir Chatterjee. Prior to this, the director-actor duo worked together in the emotional drama Bastusaap in 2016. Besides, they have also been seen together in Aborto (2013).
Bishorjon's music has been composed by late folksinger Kalikaprasad Bhattachariya (Dohar) and Indradeep Dasgupta. This film is marked significant in the Bengali film industry as it was the last work by the popular singer before his untimely demise earlier this year.
The film is slated to hit the theatres on the eve of Bengali New Year — April 14, 2017. You can watch the trailer below.
Twitter is flooded with the tweets from well-wishers as the film won the National Film Award. We have gathered some of the reactions below.
Not only Bishorjon but also other Bengali artists are also awarded the honour. Singer Iman Chakraborty bagged the Best Female Playback Singer award for the song "Tumi Jake Bhalobasho" in Praktan movie. Anupam Roy also won the Best Music Director award for the same movie.