In a tragic incident that took place in Tamil Nadu, six people died and a few others were injured after a speeding Audi rammed into a crowd at the Coimbatore bus stand.
The accident took place near Iyer Hospital bus stop at Sundarapuram at around 10:22 am on Wednesday (August 1). The police have arrested the driver, a 34-year-old P Jagadeesh Kumar. Reports have said that the driver lost control over the vehicle and rammed into the people standing at the bus stand.
A CCTV footage in which the Audi SUV is seen running over the people have also gone viral on social media.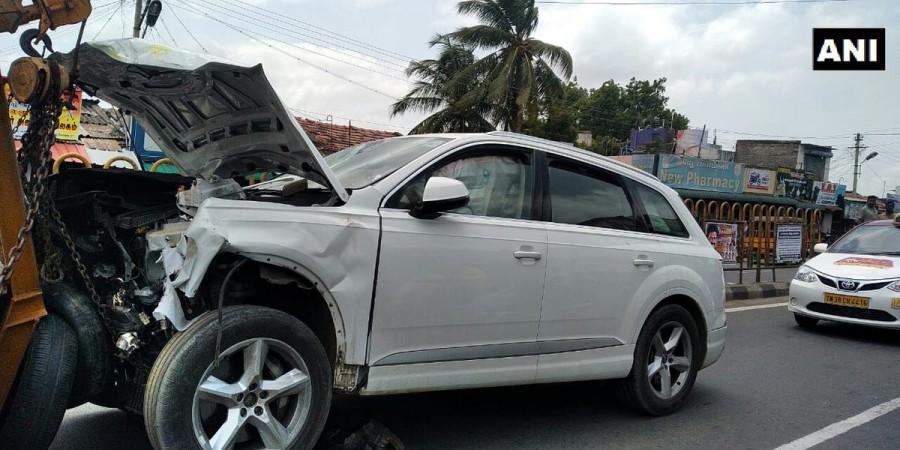 "The SUV was on its way to Coimbatore from nearby Pollachi when it crashed into the Periyar bus stop in Sundharapuram around 9.30 am. It then rammed into an auto rickshaw parked on the roadside, killing two people seated inside. It came to a halt only after hitting a roadside flower shop and an electric pole," Hindustan Times quoted an officer, who chose to remain anonymous, as saying.
The moment the four-wheeler came to a halt, passers-by dragged Kumar out of the car and started thrashing him.
Three people, N Somasundaram (55), Suresh (45) and Natraj (70), who sustained grave injuries in the accident were rushed to nearby hospitals. The deceased, who were either pedestrians or hawkers, have been identified as Narayanan (70), S Amsaveni (34), A Sri Rangadas (69), N Subhasini (18), N Kuppathal (70) and Ruckmani (65), reported The Times of India.
The uninjured driver was handed over to the police has been remanded in police custody. Kumar's blood test showed the presence of alcohol in his system.
The driver has been booked under Sections 279 (rash driving), 338 (causing grievous hurt by act endangering life), 304 (ii) (causing death to person by rash driving) of the IPC and section 185 of the Motor Vehicle Act (driving under the influence of drug).
Here is the video of the accident: