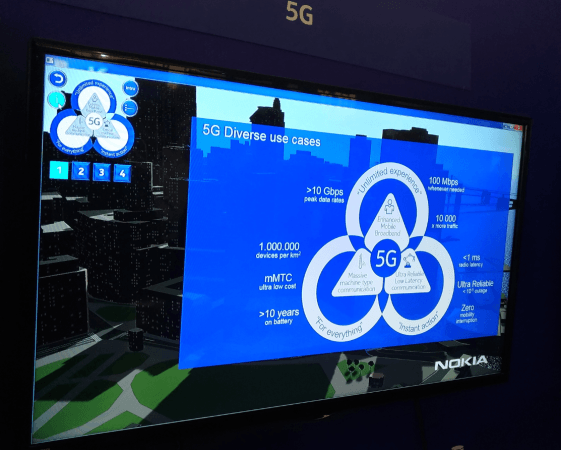 In an effort to boost the Central government's push for digitalization, The Department of Telecommunication is working hard to prepare the roadmap for new-generation 5G adoption in India.
Telecom Secretary Aruna Sundararajan, speaking at a Cellular Operators' Association of India (COAI) event in New Delhi, said she was optimistic the draft of the 5G roadmap in the country would be ready by June this year.
"A high-level forum on 5G which includes global experts, industry experts, IITs, IISc, has already commenced work and done a fair amount of deliberation. By June, India will have a full roadmap ready on this," PTI quoted Sundararajan as saying.
The department was discussing the roadmap holistically in terms long-term vision, goals, spectrum policy, regulatory regime and pilot programs, Sundararajan added.
Sundararajan also invited budding startup entrepreneurs, cellular industry members and academics to join the efforts to make India a frontrunner in embracing 5G, which has the potential to transform the country and overcome the challenges accrued over several decades of lack of infrastructure.
Benefits of 5G wireless telecommunication:
Once 5G makes its commercial debut, it is expected to change the digital landscape of India. It has several use-cases, particularly in terms of the Central government's Smart Cities project.
Theoretically, 5G network speeds can reach more than 10Gb per second, 1000 times more the current 4G standard (100Mb per second) and the latency is extremely low — aspects that are considered the two driving forces for new-age applications and Internet-of-Things (IoT) that need massive spectrum bandwidth to work flawlessly.
For the uninitiated, latency in telecommunication is described as the time taken by a packet of data to get from one designated point to another. This is a very important aspect for autonomous cars, which need to continuously interact with the main cloud server for a real-time route map, navigation and updates like traffic and weather.
In case of an obstacle on the road, a fast and clear network will help the car find a new route and escape traffic jams.
Also, the car's radar system will be several times quicker to respond to any sudden obstacles such as unexpected crisscrossing of vehicles while change lanes.
Autonomous cars come with Artificial Intelligence and machine-learning abilities. Faster wireless communication with an online cloud server will help it store and analyze human behavior to improve the car's driving capabilities and most importantly avoid any fatal accidents.
The 5G technology is expected to provide a platform enabling growth not just in self-driving technology in the automobile sector but also in ICT (Information and Communication Technology), entertainment, agriculture, and manufacturing industries.
International Business Times, India Edition, had the opportunity to visit Nokia's R&D facility in Bengaluru a couple of years ago as part of the Nokia Innovation 2016 event coverage. During the meet, the company engineers demoed 5G-related use-cases including a smart parking system, real-time city surveillance, and an intelligent railroad trespassing detection system.
If the Central government fully readies the 5G roadmap and initiates the sale of spectrum to telecommunication companies before the end of 2018 or in early 2019, consumers can get to experience superfast 5G internet service in 2020, if not earlier.
The good news is that Airtel and other network carriers have already started developing the necessary infrastructure and are working with Nokia, ZTE and others to bring Massive MIMO — a pre-5G technology — to India before the end of 2018.
It will make the existing network future-ready to meet the data demand of a billion people (in India). With this upgraded infrastructure, customers who have been limited to 4-16Mbps speeds will be able to enjoy faster data speeds close to 30-40 Mbps and that too on their existing 4G mobile devices without any upgrades or plan changes.
Also, Massive MIMO deployment is said to be a green technology and thus helps reduce carbon footprint, Airtel has claimed.
Benefits of 5G in a nutshell:
Super 10Gbps internet speed. With that, you can download highest-quality Blu-ray videos in just seconds
Safer autonomous cars
Real-time city surveillance via multiple CCTV connected to a central control room for quick response to terror attacks or crime with accurate location details
Intelligent railroad trespassing detection system
Once 5G is ready, there will be little latency — if at all — while accessing government websites to demand service, as the infrastructure will be able to handle millions of requests simultaneously
Manufacturing companies can scale up the efficiency of the automated robots and thereby increase production
A faster disaster warning system will save millions of lives
Every 5G smartphones will be powerful enough to play bandwidth-intensive online games, stream graphics-intense Virtual Reality (VR) videos, use Augmented Reality (AR) apps and more.
Stay tuned. Follow us @IBTimesIN_Tech on Twitter for the latest news on technology.