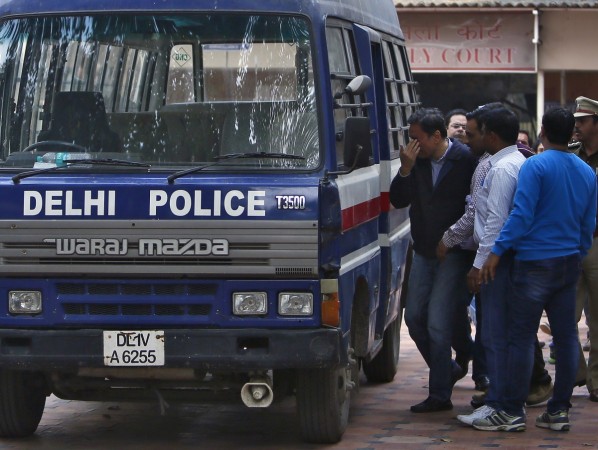 The Delhi Police arrested four people for allegedly assaulting a 16-year-old boy over an argument in Inderpuri area of southwest Delhi. The victim has reportedly alleged the men stripped him naked, shoved a beer bottle into his private part and paraded him in the locality.
One of the accused filmed the assault on his mobile phone and shared it on social media platforms. The accused, identified as Sumit, Aman, Raju and Shankar, were sent to Tihar jail after they were produced before a court, the Hindu quoted the police as saying on Thursday.
The incident took place on Monday but it was reported to the police only on Wednesday. The victim's family had alleged he was stripped naked and sexually assaulted by the men, but the Inderpuri police that have registered the case that the minor was only beaten up, the Indian Express reported.
"In the medico-legal case, there is no history of sexual assault. In the video, there is no evidence of the minor being stripped naked or assaulted. However, the video shows that the minor was bullied and paraded. We have arrested four people in connection with the case," the IE quoted Deputy Commissioner of Police (southwest) Surender Kumar as saying.
The DCP, however, said the video needs to be verified. "If it is of the same incident, then we will add appropriate sections to the FIR," he said. As of now the accused men have been booked under Sections 323 (punishment for voluntarily causing hurt), 342 (punishment for wrongful confinement), 34 (common intention) of the Indian Penal Code.
The alleged assault took place in JJ Colony of Inderpuri. The four men were drunk when they assaulted the boy, police said. "They got involved in a brawl with the minor. We don't know the reason behind their fight," the IE quoted the DCP as saying.
"Even before I could answer, they started bashing me up. They tied me up and started kicking me. They then stripped me naked and continued the assault. They proceeded to pick up a beer bottle and insert it into me even as I remained helpless and pleaded with them to let me go," the Hindu quoted the boy as saying. He also alleged that the men stuffed chilly powder in his private part.
"They caught me, beat me up and accused me of stealing. They shut me up in an office and didn't tell my parents where I was," NDTV quoted the victim as saying. The victim's mother reportedly claimed that the boy attempted suicide when he returned home after the assault.