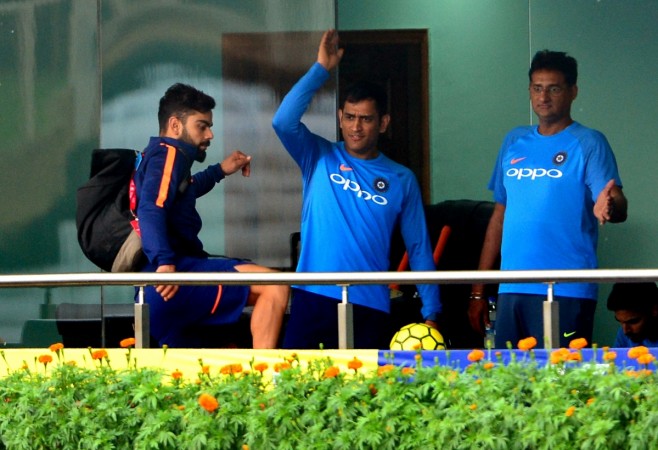 The stage was set in Hyderabad for the decider of the three-match T20I series between India and Australia at the Rajiv Gandhi International Stadium on Friday, October 13. There was rain threat looming over the most-anticipated match of the tour, but the weather gods were kind on the matchday.
However, consistent showers over the last two weeks rendered the outfield unfit for cricket even after the pitch remained unaffected. The match was called off and the series was shared 1-1 between the two teams.
However, there was a lot of drama on and off the field as rain kept away throughout the evening in Hyderabad. Sunil Gavaskar and Brett Lee even presented the pitch report after an initial delay of 30 minutes.
A crowd of more than 20,000 people at the stadium did not lose hope even as multiple inspections, involving skippers Virat Kohli, David Warner and the match officials, were taking place.
The groundsmen were working tirelessly to try and get the outfield ready so that the officials could squeeze in a shortened game, much like the first T20I in Ranchi, which ended in India's favour.
Chants of "Sachin, Sachin"
The sea of people were busy with their mexican waves and even reportedly started chanting "Sachin, Sachin" to keep themselves engaged on what turned out to be a boring evening in Hyderabad.
Also read: Nod for four-day Tests: ICC trying to 'degrade' Test cricket, says Indian legend
Also, the big names in both the camps did their best to conquer boredom on Friday. While football was dominating the early evening, Virat Kohli and Rohit Sharma were spotted practising big shots, while batting left-handed.
The Indian cricket team captain and vice-captain's quirky idea must have got former skipper MS Dhoni interested. The wicketkeeper-batsman soon joined Kohli and Sharma and tried his bit at left-handed batting.
Check out photos
Hyderabad crowd wins praise
While the outfield did not look dangerous from in front of television screens, former left-arm spinner-turned commentator Murali Karthik shed light on the threats of playing on a soggy field. The 41-year-old assessed the wet patches, which threatened to cause serious injuries to the players.
The crowd though seemed to have understood the developments and vacated the stadium on Friday without making a fuss. It was heartening to see the behaviour of fans, days after the Guwahati stone-throwing incident, which left the Australians "pretty scared" after their team bus' window was shattered.
Full marks and more to this Hyderabad crowd for the manner in which they took the disappointment of a no-show today.

— Harsha Bhogle (@bhogleharsha) October 13, 2017