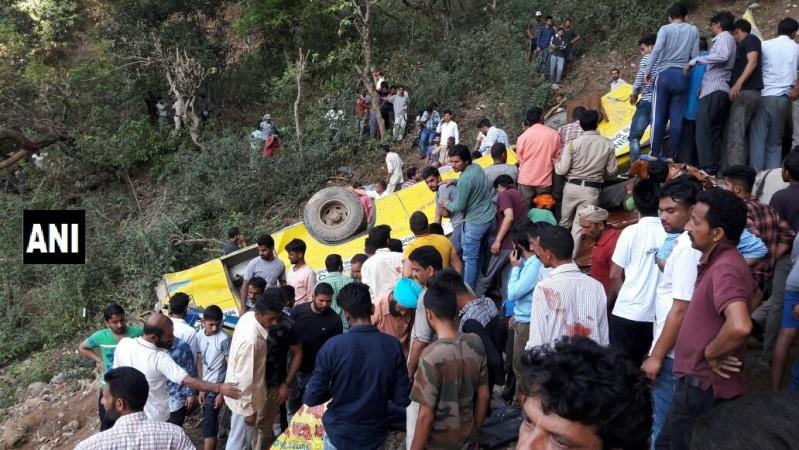 At least 30 people, including 27 children, were killed after a school bus plunged into a gorge in the northern Indian state of Himachal Pradesh's Kangra district Monday afternoon.
Here are a few quick facts about the mishap:
The bus was ferrying schoolchildren back to their homes when the incident took place near Gurchal village on Nurpur-Chamba highway.
The bus was carrying around 45 people and most of those deceased were students of Wazir Ram Singh Pathania Memorial Public School. The children were less than 10 years of age.
The 67-year-old school bus driver, Madan Lal, and two teachers also died in the accident.
After the bus fell into the gorge, one of the survivors, 9-year-old Ranbir Singh, crawled out of the ravine and informed a few passers-by.
"Two of us, a girl and I, fell out of the window of the bus as it fell. We rolled down and landed very close to the bus. We tried to climb back on the road several times but could not. I then told the girl to remain at the spot and finally managed to crawl up alone," Ranbir Singh told The Indian Express.
The police were alerted and a rescue team was immediately deployed. They have rescued 13 people, who are undergoing treatment at a hospital in Pathankot.
While one of them succumbed to injuries Monday evening, another is in a critical condition.
Himachal Pradesh: Visuals from the hospital where those injured in the Kangra bus accident have been admitted. The accident claimed the lives of 29 people, most of whom were children. pic.twitter.com/jIlohkRhmp

— ANI (@ANI) April 9, 2018
Local BJP MLA Rakesh Pathania confirmed that 27 bodies had been recovered, while two more had been spotted by late Monday.
Himachal Pradesh chief minister Jai Ram Thakur announced an immediate relief of Rs 5 lakh to the next of kin of each of the deceased, reported PTI. A magisterial probe has also been ordered.
Prime minister Narendra Modi took to Twitter to express his grievances for the deceased.
I am deeply anguished by the loss of lives due to a bus accident in Kangra, Himachal Pradesh. My prayers and solidarity with those who lost their near and dear ones in the accident: PM @narendramodi

— PMO India (@PMOIndia) April 9, 2018