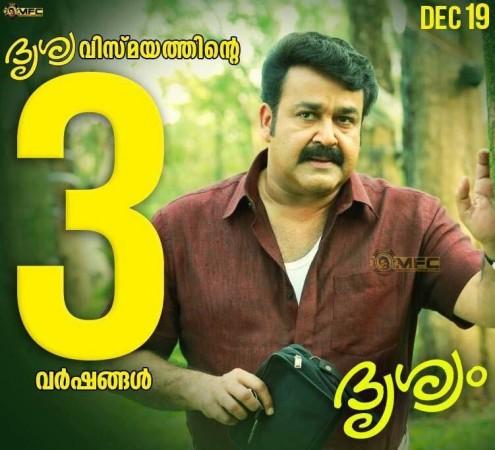 When a majority of Keralites watched the family thriller Drishyam three years back, little did they know that the Mohanlal-starrer will be one of the best movies in Malayalam. Apart from being the biggest blockbuster of the year, it remained on the top until the release of yet another Mohanlal movie.
It was the superstar's 2016 release Oppam that is believed to have broken the records of Drishyam and later his action thriller Pulimurugan by a huge margin after record box office collection in Kerala.
What made Drishyam, which hit the screens on December 19, 2013, a blockbuster?
Drishyam is not just a family entertainer but also a thriller that surprises us with an unexpected twist in the climax. A neatly woven script by Jeethu Joseph that shows the love of a father towards his family along with the notable performances of the actors among the highlights of the movie. Not just that, Jeethu's directorial skills have also played a significant part in making it an entertaining thriller.
Many remake versions
The success of Drishyam led many filmmakers to direct it in multiple languages. It was remade into Kannada as Drishya, Telugu as Drushyam, Tamil as Papanasam and in Hindi with the original title. All the versions of the crime thriller were opened to a positive response from movie-goers, making Jeethu's story reach more audience all over the country. Also read: Jeethu Joseph says he was unhappy with Drishyam Hindi remake cast
But is Drishyam too hyped?
While a majority of audience consider it to be the best thriller in Malayalam to date, few others are of the opinion that it is just a too hyped movie. It includes other superstar's fans as well as few others, who claim that the Mohanlal-starrer gives an idea to many criminal minded people. It could be true to a certain level as we have heard many such crime stories after the release of Drishyam. But, in that case, every movie, especially a crime thriller, is sure to influence the life of someone or other either in a positive or negative way.
Also, fans of Mohanlal couldn't imagine any other actor reprising the role of their superhero that made them criticise the remake versions of Drishyam.
Nevertheless, Mohanlal's Drishyam is one of the best thrilling entertaining films in Malayalam that was bankrolled by Antony Perumbavoor under the banner of Aashirwad Cinemas.