As expected of any superstar movie, Mohanlal's one-man show is seen in the Malayalam film Pulimurugan as well. The action thriller is a visual treat for all his fans as they see their favourite actor fighting against all his enemies, and for a change the list even includes a few tigers, whom the star defeats everytime.
[Since tiger is called puli (leopard) in the movie, puli will be used to denote the animal in this article]
Pulimurugan begins with the childhood days of Murugan (Ajas), who is on a mission to kill a puli along with his uncle Balaraman (Lal) for mauling his father (Santhosh Keezhattoor) in front of his eyes. He soon becomes the saviour for Puliyur natives, who fear frequent tiger attacks in the village. Apart from the fighting sequences with the tigers/leopards, the movie also narrates Murugan's (Mohanlal) family moments in the backdrop of a revenge story.
Performance
For Mohanlal fans, who get goosebumps seeing the star folding his mundu or showing exceptional fighting skills, have many moments to cheer, clap and whistle to while watching Pulimurugan. Though Mohanlal doesn't deliver any punch dialogues, his screen presence and thrilling action sequences are the USPs of the action thriller. Despite being a 56-year-old, the flexibility he has while performing the stunts deserves a special mention.
Jagapathi Babu as Daddy Girija has carried out a remarkable performance in Pulimurugan. After a long time, Vinu Mohan got a chance to perform a notable role as the younger brother of Murugan. He remains as a shadow of Mohanlal's character, but Vinu has done justice to his character Manikuttan, a village boy, who is also a MBA graduate.
D4 Dance reality show fame Ajas, who played a young Murugan in the film, is sure to have a good future in movies after his powerful performance in the Mohanlal-starrer. While Lal delivered an impressive performance with few funny one-liners, Suraj Venjaramoodu and Noby remain in their comfort zone with usual comedy roles.
Kamalini Mukherjee is seen as Murugan's wife Myna, a short-tempered person, who is jealous of the attention her husband gets from other women. Every now and then, Myna gets irritated about the deeds of her loving husband, be it his drinking habit or killing puli. Though the Telugu actress has tried to convincingly play the role, there were certain scenes with misplaced lip-syncing. However, the dubbing artiste who gave voice to Myna needs to be appreciated for her good dialogue delivery. The silly fights and funny moments shared between Murugan and Myna have a realistic touch.
Namitha as Julie, a woman who is infatuated with the macho style of Murugan has nothing much to do, other than being a sexy woman with sensual looks. Bala, Kishore, Makarand Deshpande and Siddique have also done their parts neatly.
Direction and technical aspects
Director Vysakh's recent movies were disasters at the box office, however, Pulimurugan can be called as his career best till date. The filmmaker has made Pulimurugan a mass entertainer with just one aim -- utilisation of Mohanlal in the best way possible.
Graphics play an important role in Pulimurugan, especially the fight scenes of Mohanlal with puli. Poor SFX often ruins the essence of the plot in many movies, but looks like producer Tomichan Mulakupadam was ready to spend a huge sum of money to make the visual effects in the Mohanlal-starrer look excellent.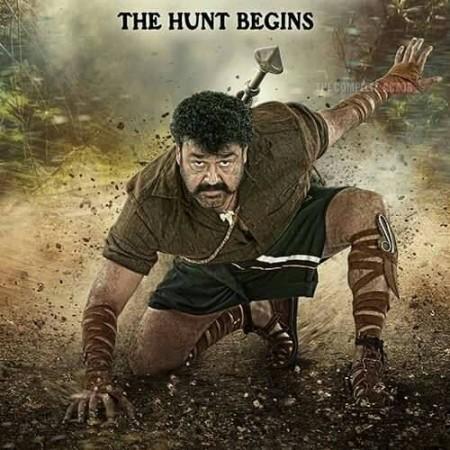 Popular stunt master Peter Hein has well choreographed the action in Pulimurugan. Though people in the film (read enemies of Mohanlal) were seen flying just like in any Telugu action thriller, the fights are appealing for audience who expect a mass thriller from the superstar. The foreign fighters seen in the climax scene entertain with few innovative stunts.
Cinematographer Shaji Kumar has captured many breathtaking visuals at the dense forests in Silent Valley, Attappadi, Mamalakandam and Pooyamkutty. The action sequences presented with slow motion camera moves are also thrilling. The background music by Gopi Sunder is spot on and the song Murugan Murugan Pulimurugan is sure to remain in the minds of audience even after leaving the theatre.
Drawbacks
When it comes to the plot, Pulimurugan is not an extraordinary movie as it has a predictable storyline scripted by Udayakrishna. It is a masala entertainer to hail Murugan, who is like a superman -- even if he is being attacked by 100 people together, he gets hurt at times only, but is sure to defeat each of his enemies. To be precise, the makers of Pulimurugan have utilised the stardom of Mohanlal by making it a clichéd movie for the superstar to shine. Apart from the action, it doesn't have anything to boast of.
Final verdict
Pulimurugan is made to entertain fans of Mohanlal, nevertheless, it does justice without making the movie-goers feel bored, even if you are not an ardent fan of the star. It is a watchable thriller, where you get to see the powerful performance of Mohanlal along with some fresh stunt. Yes, it can be called as the Malayalam version of a masala Telugu thriller, but it is far better.