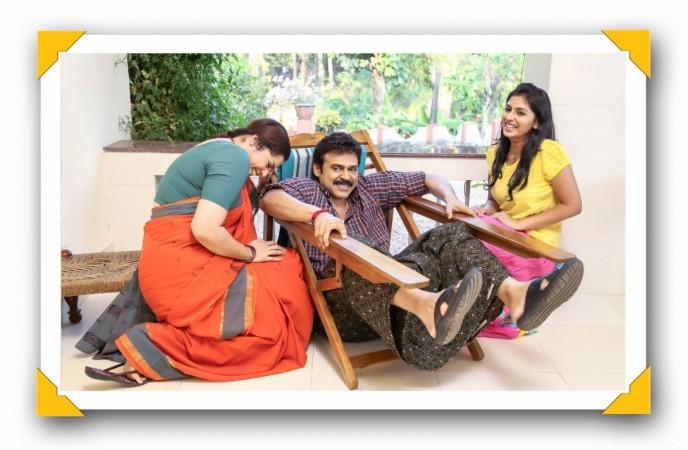 Venkatesh's "Drushyam", a remake of Malayalam film "Drishyam", has received positive reviews from critics.
"Drushyam" is a thriller family drama directed by Sripriya. The film has Meena, Nadhiya, Naresh, Ravi Kale, Chalapathi Rao, Paruchuri Venkateswara Rao and Chaitanya Krishna in supporting roles.
Plot: Rambabu (Venkatesh) works as a cable operator in Rajavaram village. He leads a happy life with his family – wife Jyoti (Meena), two daughters Anju (Kritika) and Anu (Baby Ester).
One day, Rambabu's elder daughter Anju gets videographed by a culprit, when she is changing her dress. He gets accidentally killed, while blackmailing Anju and Jyoti with the video. His body is dumped in the backyard of their house and Jyothi tells about the incident to Rambabu.
Meanwhile, Geetha (Nadia), a police officer and the mother of the criminal-minded guy, begins investigating the disappearance of her son. What happens next? Will Rambabu and his family get trapped in police net? All these form the crux of the story.
Critics have appreciated the film's brilliant screenplay. Venkatesh's performance has also won accolades from the critics. Suspense element, commendable performances and technical aspects are the major highlights of "Drushyam."
Check the review roundups of "Drushyam":
According to Indiaglitz, "The family's trauma is well-crafted, barring a few glitches here and there. A haunting number in Rambabu's mind is one example. Another example is the three females of the family staring at the sight that can seal their fate."
"As mentioned already, this is one of the best of Venky's performances," the website stated. "He once again proves that he is a seasoned actor, who can effortlessly get into the skin of his character. Meena looks beautiful enough. Kritika and Baby Esther fit the bill.The technical departments do a good job. Be it the BGM or the cinematography, everything is slick and apt."
Srivaas of Cinejosh said, "Family audience who admire Venkatesh for clean family entertainers can safely bet on this film. For those enthusiastic patrons (like me), who even watched the original Malayalam version can still laud our Telugu team. Well done, producer Suresh Babu and hero Venkatesh Babu for experimenting with a right non-commercial subject."
According to 123telugu, "Drishyam is one film which works big time in all departments. Right from the striking performances of Venkatesh and Nadia, to the thrilling suspense elements, Drushyam has everything for everyone. A must watch for the entire family."
Verdict: Worth Watching