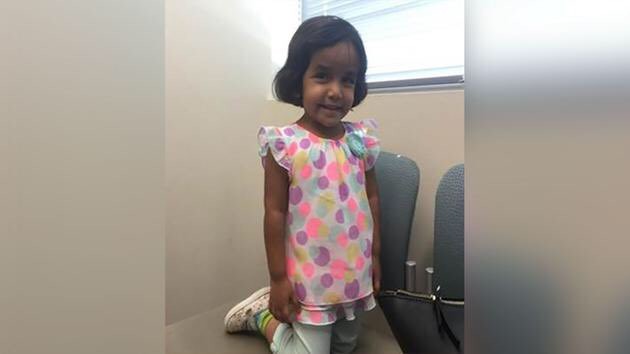 The Richardson police and FBI sleuths are on an extensive search in Texas for a 3-year-old Indian girl who went missing on October 7 after her foster father allegedly asked her to stand outside the house late in the night as a punishment for not drinking milk.
The police had briefly detained Wesley Mathews (37), the foster father of Sherin Mathews, the missing child, in connection with the case. Mathews, who hails from Kerala, India, was later released from custody on posting $2,50,000 bond to the Richardson Police.
Police sergeant Kevin Perlich from Richardsom police department told Dallas Morning News: "Richardson police along with an FBI evidence recovery team entered the house of Wesley Mathews in Dallas, Texas last night to execute a search warrant."
A door-to-door search was conducted around Mathews's house by the police officials alongwith search dogs and helicopters.
The missing child had developmental issues and has limited verbal communication skills when compared to a typical 3-year-old in the US, Sergeant Perlich added.
The officer and his team have gathered security footage, electronics and items in the family's three vehicles that were towed from the home.
The Mathews family adopted Sherin 2 years ago from an Indian orphanage. At the time of adoption, she was reportedly malnourished and physically underdeveloped.
What happened at the wee hour of 0ctorber 7
Mathews had asked Sherin to stand outside the house at 3 am near a tree in the backyard. "I checked on Sherin at about 3:15 am and found that she is gone," said Mathews.
Mathews reportedly went back to 'do laundry' assuming that Sherin might return back home by morning.
The girl's foster mother was reportedly asleep when Sherin went missing and she was unaware of what Mathews was doing.
Delay in reporting the child's missing
The investigators are baffled by the apparent delay in reporting the missing of the child. "Why was the last sighting at 3 o'clock and the parents not call us until after 8 am, that's the question we want answered as well," Perlich was quoted as saying by Dallas Morning News.
"As far as why she was out there, how long she was out there, that's the questions we have for the parents," he added.
It seems that Sherin's foster father is the only witness for her missing. Reportedly none of the family members had any knowledge on the missing child and how the events took place.
Meanwhile the Texas Child Protective Services officials have removed Sherin's 4-year-old sister from the family on October 9 and placed her under protective custody. The search for Sherin is still on.