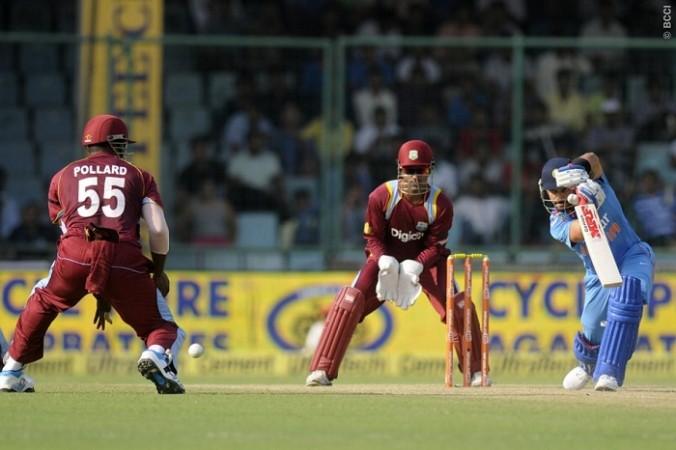 West Indies have the penchant to pull defeat from the jaws of victory. In a prime position to make it 2-0 in the five-match ODI series against India, WI self-destructed spectacularly to hand the home team a how-on-earth-did-we-do-that victory in the second ODI at the Feroz Shah Kotla.
In the first innings, the Indian batsmen could not quite find that six-and-four-in-every-few-deliveries gear, with the West Indies bowlers keeping things nice and tight to ensure they would not have a big total to chase in Delhi in the second ODI.
Choosing to bat first, India rather crawled their way to 263 for seven in the 50 overs – a not-so-bad score, considering the nature of the pitch -- with contrasting half-centuries from Virat thank-the-heavens-I've-got-some-runs Kohli, Suresh at-his-flowing-best Raina and MS he-just-keeps-doing-what-he-does-best Dhoni ensuring the home team at least reached a reasonably competitive total on the slow and low Kotla pitch.
West Indies looked on course for a comfortable victory for the majority of the second innings, before their old failings came back to haunt them again as they crashed to 215 all out in 46.3 overs to give India a 48-run victory.
The West Indies started off as well as they could have hoped for, and for the longest time they looked like being a shoe-in to make it 2-0 in the series.
Dwayne Smith and Darren Bravo, opening the innings this time instead of his brother Dwayne, gave WI a really good start, putting on 61 runs in 13 overs, as they looked completely untroubled by India's opening bowlers.
While Smith looked primed for a big score, Darren Bravo (26, 44b, 2x4) fell in the first ball of the 14th over, with Mohammed Shami (9.3-0-36-4) clipping off-stump off a peach of a delivery.
West Indies though remained in control with Smith looking smooth as silk and Kieron Pollard (40, 50b, 1x4, 3x6), sent up the order, doing his job pretty well.
The duo put on 72 runs in a little under 16 overs, putting West Indies on their way to a comfortable win, before it all unravelled suddenly.
Following Pollard's wicket – castled by the excellent Mishra (10-2-40-2), the pick of the Indian bowlers – Smith (97, 97b, 11x4, 2x6) had to carry on and take West Indies to the brink, but the game turned on its head once the opener fell to Shami in the 36th over, three runs short of his hundred.
West Indies needed less than a hundred from 14 and a bit overs at that point, and when sense was needed, the batsmen decided to press the self-destruct button.
In the blink of an eye, WI went from 170 for two to 215 all out, gifting India the much-needed victory and a series tie.
Earlier, India's innings was a little bit of a what-might-have-been really, with the home team floundering for answers the moment Shikhar Dhawan lost his wicket in just the second over of the innings, by getting castled to the excellent Jerome Taylor (10-0-54-3).
Once the opening partnership was broken early, West Indies would have sensed some Indian batting blood, and the sense of another underwhelming innings from the home team only increased with Ambati Rayudu coming in at No.3 instead of Virat Kohli.
Rayudu was the circumspect man, with the right-hander a little too careful with his innings in his endeavour to build a solid score as he looks to cement his place in the team. Ajinkya Rahane, who was so impressive for India in the opening slot in England, did not make merry with the bat at the other end, either though, suggesting that the pitch at the Kotla was not the easy peasy batting deck expected.
The ball was not coming on as well as the batsmen would have liked and the West Indies bowlers took full advantage, keeping things tight and not allowing their opponents to get any kind of momentum.
Rahane and Rayudu's partnership of 46 for the second wicket took 11.1 overs, and it came as little surprise when Rahane (12, 28b, 1x4) squirted one to cover off Darren Sammy.
It did not get any better for India from there, either, as Rayudu, after his rather man-I'm-struggling-for-easy-runs-here 32 (54b, 3x4) was caught at slip a few overs later off the bowling of Benn, leaving India needing a big partnership.
A big partnership, though, was precisely what was provided by Kohli and Raina, with India's two experienced ODI batsmen allying for a precious 105 runs from 19.1 overs. It was a welcome return to form, or at least a semblance of it, for Kohli, who cracked a determined 62 (78b, 5x4), while Raina was his as-fluent-as-it-gets-here best with his own 62 (60b, 5x4, 2x6) en route to cracking two of the only three sixes of the innings.
That partnership brought India from 74 for three in 17.4 overs to 179 in the 37th over, setting the platform for the likes of Dhoni and Ravindra Jadeja to go boundary-crazy in the end.
While there were a few boundaries in the final ten overs, following the wickets of Raina and Kohli, there just weren't as many as India, who scored 71 runs in the final ten overs, or indeed the supporters would have imagined, as Dhoni played a decent little unbeaten 51 (40b, 5x4, 1x6) to take his team to a respectable, if far from scary, total.