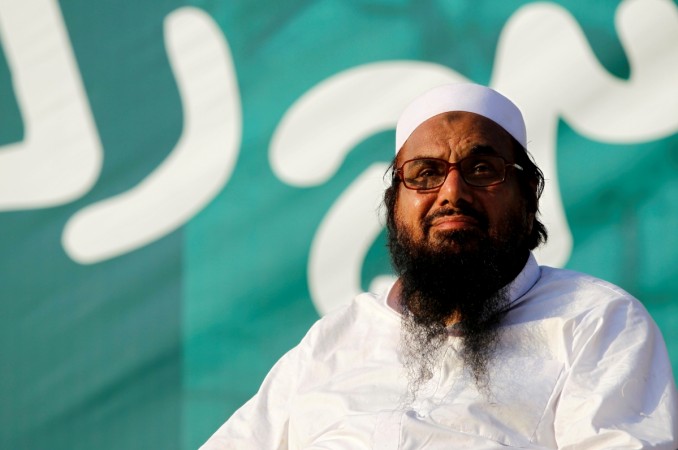 The provincial Punjab government in Pakistan has listed Hafiz Muhammad Saeed, Jamaat-ud-Dawa chief and 26/11 Mumbai attacks mastermind, and four of his close aides under the Fourth Schedule of the Anti-Terrorism Act, thereby putting several restrictions on him.
According to Dawn News, the order to include their names in the Fourth Schedule of the Act came from Islamabad. The Fourth Schedule of the Act puts a suspected terrorist under observation making it mandatory for him to register his attendance with the local police daily. Four others added to the list are — Qazi Kashif, Abdullah Obaid, Zafar Iqbal and Abdur Rehman Abid.
All five of them had also been placed under house arrest by the Pakistan government on January 30 in Lahore amid protests by Saeed's political allies and party. The country's Interior Ministry identified them as "active members of the Jamaat-ud-Dawa (JuD) and Falah-i- Insaniyat (FIF)." It has also ordered the Counter Terrorism Department to "move and take necessary action" against them.
Saeed and 37 other leaders associated with JuD and FIF have also been placed on the Exit Control List (ECL), which prohibits them from leaving the country and places their assets under scrutiny.
Is Pakistan admitting that Saeed is guilty of terrorist activities through this move?
The fact that Saeed has been listed under the Anti-Terrorism Act proves that he is linked with terrorism in some way. However, his inclusion in the Fourth Schedule seems to be an admission by Pakistan of Saeed's involvement in militancy or terrorist activities after shielding the 26/11 mastermind for years.
The Pakistan government had allowed the 26/11 mastermind to publically lead an anti-India rally of his supporters from Lahore to Islamabad on July 19 last year. The day is observed as a 'Black Day' in Pakistan to draw attention to the "burning issue of Kashmir." Following the Mumbai attacks, Saeed was put under house arrest several times. However, in 2009, the Lahore High Court had dismissed all terrorism charges against him and set him free.
There were also reports that the Pakistan government had moved Saeed and Hizbul Mujahideen chief Syed Salahuddin to an army camp in Lahore following the surgical strikes by the Indian Army on terror launch pads in Pakistan-occupied Kashmir (PoK) in September 2016.
In an interview to the New York Times in 2013, Saeed had said: "I move about like an ordinary person - that's my style. My fate is in the hands of God, not America." The NYT had reported that Saeed was shielded not only by his supporters, but also by the Pakistani state at his residence in Lahore, which consisted of a fortified house, office and mosque.
Is this an effort by Pakistan to appease the US?
Pakistan could also have taken this decision to place Saeed under the Anti-Terrorism Act to appease US President Donald Trump after reports emerged that Pakistan might also be included in the US' list of countries that would face visa restrictions/ban. Trump has already signed an executive order on an immigration ban on seven countries and has consistently said that he would take strict action against those involved in terrorism.
The US, in 2012, had also announced a reward of $10 million (Rs 60 crore) on any information that could lead to Saeed's arrest following the 26/11 Mumbai attacks that claimed the lives of 166 people. However, the JuD chief appeared on several TV channels and said that the reward was a "foolish step" by the US.
Pakistan's move could also have come over facing isolation on an international platform due to its continued support and patronage to Saeed. The SAARC Summit in Islamabad was boycotted by all nations, the first country being India, last year.