Union Minister Venkaiah Naidu along with some Indian political leaders attended the 20th 'TANA' (Telugu Association of North America) 2015 Conference, which is held at Detroit in USA on 3 July.
The event, which is attended by many Tollywood stars including venkatesh, is aired live on TV 9 and TV 5 and few Telugu TV channels. It is also live streamed on YouTube and you can watch the same on the above video.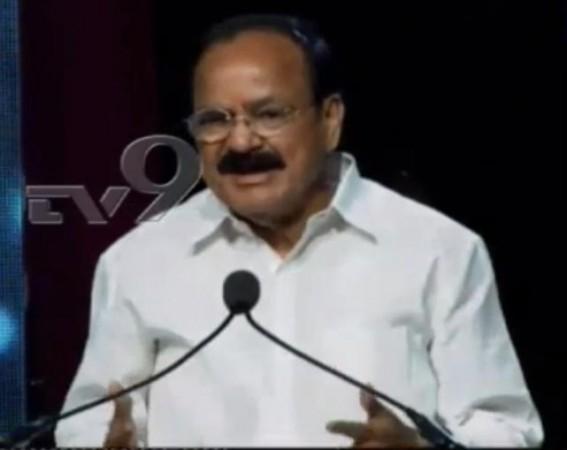 Here is the table detailing the programmes that are taking place at the 20th 'TANA' 2015 Conference on Friday.
| | | |
| --- | --- | --- |
| Start Time | Program Type | Room |
| 6:00 AM | Sri Sai Satya Vratam by Shirdi Head Priest Kakad Aarathi, Abhishekam & Sri Sai Satya Vratam | 420 B |
| 7:30 AM | Breakfast | 250 |
| 9:00 AM | TANA Parade & Inaugural Ballet | Hall B (Macomb) & Hall C (Oakland) |
| | Exhibition & Sale of Paintings & Crafts Items / Exhibition of Looms and Handloom Products | Exhibit Hall A |
| | Registration - Onsite registration | Registration Counter |
| 11:00 AM | Dhim-TANA - Check-in for Singing Competetion | 142 |
| | Dhim-TANA - Check-in for Dance Competetion | Grand Ballroom |
| 11:30 AM | Lunch | Hall D (Wayne) |
| 12:00 PM | Dhim-TANA - Classical Singing | 142 |
| | Dhim-TANA - Film/Folk Dancing Competetion | Grand Ballroom |
| 1:00 PM | Cultural programs - Segment 2 | Hall B (Macomb) & Hall C (Oakland) |
| | Sri Venkateswara University - Alumni | 330A |
| | Vaalu Jada / Poola Jada - Photo Booth - Arts & Crafts | Exhibit Hall A |
| | Kids Workshop - Muggulu - Arts & Crafts | Exhibit Hall A |
| | Telugu Basha Vikasam - Literary | 321 |
| | Book Display - Literary | 313 |
| | Rural Sanitation and Child Nutrition - Panel Discussions | 140 |
| | Religious Discourse Speaker: Sri Janaki Rama Sastry Topic: Religious Discourse | 420 A |
| | Tour of Local Temples Pick up Location - COBO Hall River Front Entrance | |
| | Heartfulness - Relaxation Session Topic: A Guided Head to Toe Relaxation Session by Heartfulness.org - Religious & Spiritual Forum | 336 |
| | Uplift Group Presentation - All ages - Youth Forum | 260 |
| 1:30 PM | Guntur Medical College (GMCANA) - Alumni | 358 |
| | Rangaraya Medical College (RMCANA) - Alumni | 359 |
| | SV Engineering College - Alumni | 355 |
| | Vijaynagar Engineering College, Bellary - Alumni | 353 |
| | Governor's Key Note Speech, Sri.Venkaiah Naidu, Sri Raj Vattikuti - Business Forum | Main Stage |
| | Art of Living - Youth Program - Ages 16 and above Speaker: Sri Rajesh Jagasia Topic: Mind Management - Religious & Spiritual Forum | 420 B |
| | Mind and Management - Art of Living (All Ages) - Religious & Spiritual Forum | 420B |
| 2:00 PM | Agricultural Forum | 410 |
| | Chittoor NRIs - Alumni | 330A |
| | Kurnool Medical College - Alumni | 357 |
| | N S M Public School - Alumni | 356 |
| | Siddhartha Medical College - Alumni | 354 |
| | Meet & Greet - Social Hour | 320 |
| | Religious Discourse Speaker: Swamy Sarva Vidananda Saraswati Topic: Bhagavad Gita - A Practical Guide to Present Day Life - Religious & Spiritual Forum | 420A |
| | Vanita – Vaanijyam - Women's Forum | 330B |
| 2:15 PM | MEDC, Stage-2 Enterpreneurship, Tech Talk, Mobile Infusion in Life, Investment & Technology - Business Forum | 360 |
| | Meet and Greet with Senior Tollywood Celebrities - Panel Discussions | 140 |
| 3:00 PM | Dhim-TANA - Film/Folk Singing | 142 |
| | Dhim-TANA - Classical Dance Competetion | Grand Ballroom |
| | Gandhi King Foundation - Alumni | 355 |
| | Annamacharya Sangeeta Lahari Performer: Ms. Kalyani Dwibashyam - Religious & Spiritual Forum | 420A |
| | Heartfulness - Relaxation Session Topic: A Guided Head to Toe Relaxation Session by Heartfulness.org - Religious & Spiritual Forum | 336 |
| | Various Visas - Immigration Event | 411 |
| | One-on-one with Venkatesh | 260 |
| 3:15 PM | Religious Quiz - Written For Children/Youth, ages 17 and below - Religious & Spiritual Forum | 420 B |
| 3:30 PM | Nellore NRIs - Alumni | 359 |
| | NRIVA - Alumni | 358 |
| | Avadhanam - Literary | 430 |
| | Law and Order Mechanism - Panel Discussions | 140 |
| | Ramani – Raajakeeyam - Women's Forum | 330B |
| 4:00 PM | Osmania University (Campus and Constituent Colleges) - Alumni | 356 |
| | Kriya Yoga (In English) Speaker/Teacher: Swami Atma Vidyananda Giri Topic: Ancient Solutions to Modern Problems - Religious & Spiritual Forum | 420A |
| | | |
| | Idli / Ice Breaker - Youth Forum | 260 |
| 5:00 PM | Mee Palle - Maa Zilla - Panel Discussions | 140 |
| | Heartfulness - Relaxation Session Topic: A Guided Head to Toe Relaxation Session by Heartfulness.org Religious & | 336 |
| | Spiritual Forum 2 | |
| 5:30 PM | Dinner | Hall D (Wayne) |
| 6:00 PM | Cultural programs - Segment 3 | Hall B (Macomb) & Hall C (Oakland) |
| 9:00 PM | 13 - 17 Formal - Youth Forum | 260 |
| 10:00 PM | Boat Cruise (Age - 18+) - Youth Forum | |