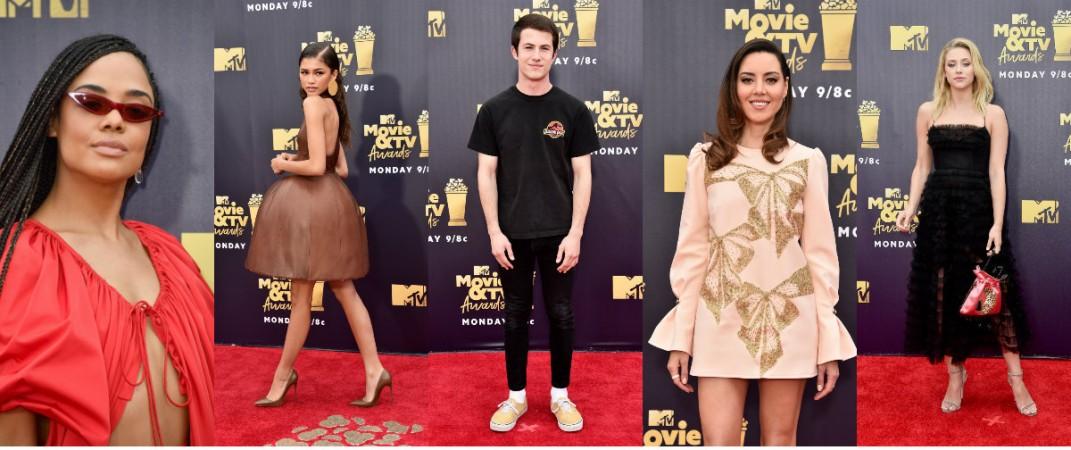 Several stars graced the red carpet of the 2018 MTV Movie & TV Awards. From the cast of 13 Reasons Why to the It Kids, the best of cinema and television attended the annual award function. While the winners are yet to be announced, we have a few red carpet winners from this year.
Most of the stars slipped into their best outfits for the awards night, however, a few failed to impress with their style statement.
Let's start with the best dressed. Spider-Man: Homecoming star Zendaya's structured mini dress proved that she is undoubtedly one of the best-dressed stars at any event. The chocolate brown dress featured an exaggerated skirt that made her stand out among the many others at the event.
Giving her some solid competition was 13 Reasons Why star Katherine Langford. She looked almost unrecognisable when she sported a black gown and opted for gothic makeup to complete her look. Kim Kardashian and her mother Kris Jenner rocked the MTV Movie Awards 2018 red carpet in white.
Riverdale star Lili Reinhart dressed in a gorgeous black ensemble and turned heads. Black Panther star Chadwick Boseman ditched the royal look and attended the award function in denims. Legion star Aubrey Plaza stunned in a subtle pink short dress. G-Eazy and Hasley looked hot in a black suit and red revealing outfit respectively.
Other best-dressed celebrities included MTV Movie & TV Awards host Tiffany Haddish, Black-ish star Yara Shahidi,
Meanwhile Thor: Ragnarok star Tessa Thompson looked like a wardrobe malfunction waiting to happen, 13 Reasons Why actor Dylan Minnette appears to have taken no efforts whatsoever for the evening. He attended the event wearing a black Jurassic Park T-shirt and match his pants with his shirt.
Check out the best and worst looks here: