The tagline of Austrian bike maker KTM is 'Ready to Race'. The Bajaj Auto co-owned brand does justice to its tagline with its range of performance-focussed motorcycles. However, if you are the one who thinks that there is a huge potential for the RC 390 to become an even more hardcore race machine, the company has just introduced the RC 390 with R suffix.
As the name suggests, KTM RC 390 R is thoroughbred race machine sharpened for the pure racing experience. It is a homologated, limited edition machine ready for Supersport 300 competition when combined with the optional and dedicated SSP300 Race Kit.
Limited to just 500 units around the globe, the R version of the RC 390 is armed with a series of hardware upgrades specifically for track riding use. The RC 390 R comes with fully adjustable tailor-made WP suspension at front and rear. This allows multiple levels of adjustment in order to get the KTM RC 390 R perfectly set-up for both rider and riding conditions.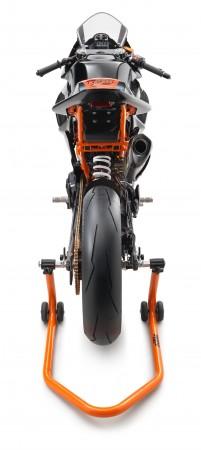 As RC 390 R is an outright track tool, there is less focus on all-day comfort. It comes with a purpose built top yoke and handlebar kit that allows a more extreme racing handlebar position and adjustable for riders of all sizes. The addition of CNC milled, foldable brake and clutch levers provide increased feedback at fingers, claims KTM.
Other additions to the RC 390 R are shorter intake trumpet to increase the overall efficiency along with a slightly wider power band. Finished with new graphics, the KTM RC 390 R will be available to order through official KTM dealers across the world for a starting price of 8,500 euros (Approximately Rs 6.7 lakh)
SSP300 Race Kit
The race-readiness of the KTM RC 390 R can be further boosted with the addition of the SSP300 Race Kit. Limited to just 50 kits per year directly through KTM Customer Racing, it contains more than 230 individual parts and gives motorsport teams the ability to make and maintain the homologated version.
The kit offers essential race requirements like a full titanium Akrapovic exhaust system with race ECU, STM slipper clutch, quick shifter, wiring harness, spare wheels, a huge selection of gearing options, increased cooling system and a full bodywork kit made from lightweight and strong materials.