American carmaker Dodge, a part of the Fiat Chrysler group, has so far dropped 13 teasers of its upcoming Challenger SRT Demon. The extreme version of the muscle car is set to be revealed at the upcoming New York International Auto Show. Now, an image of the purported model has been leaked online and it shows a new performance halo car positioned above the incumbent Challenger SRT Hellcat.
Also read: One of the 500 Ferrari LaFerrari units may be crushed by South Africa authorities; here is why
When launched, the Challenger SRT Demon will be the fastest and most powerful muscle car in the world, according to FCA. The image indicates a drag-racing-optimised Challenger version that sets itself apart from the other Challenger versions with its wider wheel arches, more aggressive aero, and a large hood scoop. A squint eye can also show the Demon badge on the front fenders behind wheel arches.
We will have to wait for a day more to find out the specifications and features of the Challenger SRT Demon. In the meantime, Dodge has spilled the beans on the vehicle via 13 teasers. So the Demon version will be around 91kg lighter than its SRT Hellcat siblings, thanks to the stripped out interior. It will come with only drive seat while any additional seating is optional.
The final teaser makes it clear that the Challenger SRT Demon can run on 100+ octane race fuel. Dodge claims it's the first ever factory-production car designed to handle both race fuel and pump gas on demand.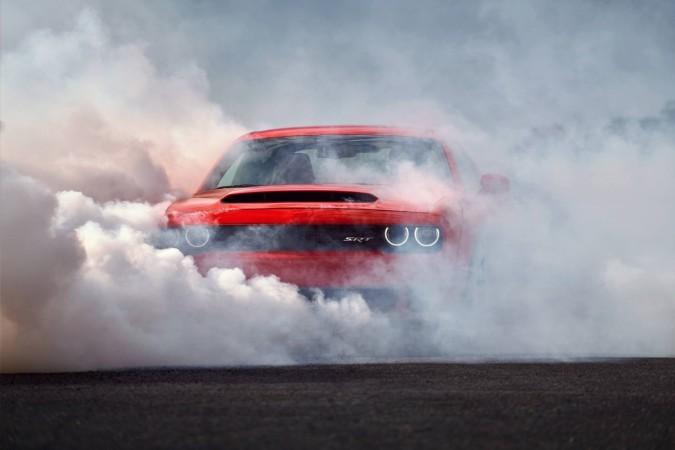 The SRT Demon will be the first ever factory production car with a TransBrake. The feature gives improved reaction times and more consistent launches by utilising the steering wheel paddle shifters as a launch trigger.
But that's not the end of the story. In drag mode, Challenger SRT Demon will use the air conditioning system to chill the air cooler. It's said to be a first-in-the-world feature in a production car, and Dodge claims the system will achieve a reduction in intake air temperature by up to 45 degrees Fahrenheit.
Under the bonnet, the Demon's supercharged V8 engine is expected to belt out more than 707bhp and 880Nm on the Challenger SRT Hellcat. All these indicate that the Challenger SRT Demon will have a blisteringly fast straight-line performance figures ever seen.
You can watch the 13 teaser videos of 2018 Dodge Challenger SRT Demon here.
Image courtesy: CarScoops