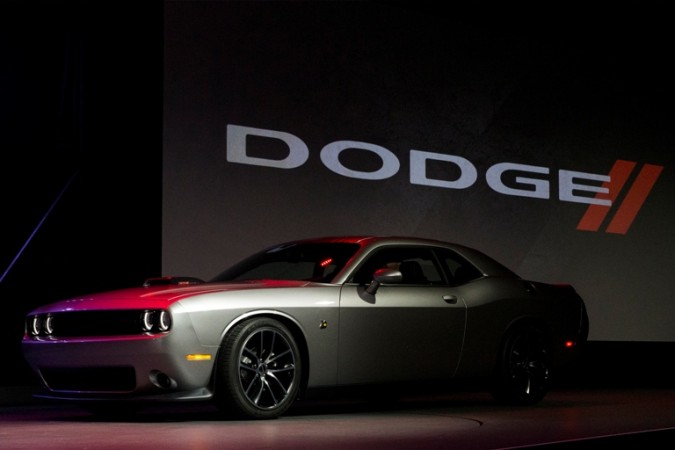 The wait for the new 2015 Dodge Challenger SRT Hellcat is finally over. The most powerful vehicle is being shipped across the U.S. dealerships to be sold at a suggested price of $60,990 including destination fees and gas guzzler tax. The highly-anticipated SRT Hellcat model received over 4,500 pre-orders in just five days after opening sales in September.
Dodge released a short video on YouTube that shows the 707 horsepower muscle cars leaving the Brampton Assembly plant in open trucks. All cars were built and assembled at the Brampton, Ontario plant. The hype built around the new Challenger is justified by the machine's powerful engine and muscular build. Powered by a supercharged 6.2-liter HEMI V-8 engine, the 2015 Dodge Challenger SRT Hellcat is the most powerful and fastest muscle car ever produced. It can deliver a quarter mile in just 11.2 seconds at 125mph with its stock Pirelli Zero tires. Change that with drag radials and the car can attain the same distance in just 10.8 seconds at 126mph.
"The introduction of the new 2015 Dodge Challenger SRT Hellcat has ignited the general market's interest in the muscle car segment," Tim Kuniskis, President and CEO, Dodge and SRT brands, said in a press release on Thursday. "The reaction from our customers and the general public has been beyond even our positive expectations, and we will work to build a Challenger Hellcat for every customer who wants one."
On the efficiency side, which is not a primary concerning factor for those driving the powerful beast, owners of the new SRT Hellcat will be impressed. With its eight-speed TorqueFlite automatic transmission, the new Dodge delivers 22miles per gallon, according to the U.S. EPA estimates. Under the six-speed manual transmission, the EPA estimates 21 mpg on highways.
Dodge auctioned its first Challenger SRT Hellcat VIN #0001 in September, drawing $825,000 for a not-for-profit organization serving people with significant intellectual disabilities in the Las Vegas area, Opportunity Village. The one-off model, which was bought by NASCAR team owner Rick Hendrick, was unique and one off , making it worth the high price.
Dodge also has another muscle car in the line-up, the 2015 Charger SRT Hellcat, which features an identical HEMI V8 engine. The pricing of the new Charger Hellcat was released last month, it will cost $64,990.