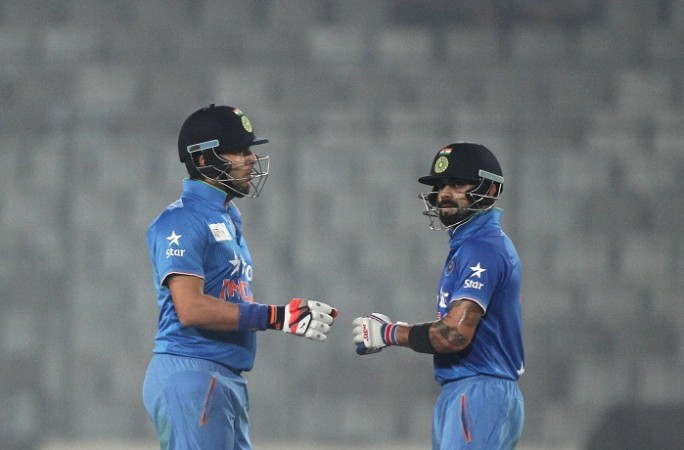 India put up yet another clinical performance to register their third consecutive victory in the Asia Cup T20 2016 to storm into the final of the tournament.
Nothing can make a captain happier than his team performing in this fashion just ahead of the ICC World T20 2016, which will kickstart next week.
Yes, MS Dhoni has plenty of reasons to smile and relax, as almost all the players in his side have stepped up when they needed to. It is indeed a fantastic sign for India.
India now have a settled side and things are going exactly the way Dhoni has planned. The India captain will not look to make much changes to his playing XI when they begin their ICC World T20 campaign. But, he will surely try and give the bench players a chance in the next game against the UAE.
"We'll definitely make a few changes in the coming games. How many (is) something we will see. Because we still want the strength and the composition of the side to be very good," MS Dhoni was quoted as saying by Cricbuzz.
"I think most of the players will definitely get a chance in the next game. Whether all the people who are sitting outside will get a chance, we're not sure. But we will try to make as many changes as possible."
Dhoni can afford to rest the players like Rohit Sharma and Shikhar Dhawan, who have suffered minor injuries. Dhoni himself had a back spasm problem earlier in the tournament, but against Sri Lanka, he looked quite fit.
"There are two-three (injuries). But these are sports-related injuries. Someone was hit by the ball or there is a twist during the practice. The kind of injuries that will become a problem is when someone tears a hamstring," Dhoni added.
"Because with those type of injuries, what happens is you are ruled out of the entire tournament. If it's small injuries then there are back-ups for everyone. There are 15 members in the squad so we can manage."
Dhoni also went on to laud Yuvraj Singh's heroics with the bat against Sri Lanka in their third match of the Asia Cup, Tuesday.
"I felt that his approach has always been very good. He gives himself two or three balls before playing the big shot. And as you saw, he's someone who can hit sixes at will. So if the same thing continues gradually, he will be in a very good position before the World Cup," Dhoni said.
The 34-year-old captain did not forget to praise yet another outstanding knock from Kohli. Dhoni feels Kohli's presence in the squad makes a massive difference.
"Right from the start, he was always someone who wanted to contribute more. He's looking like a much more matured cricketer. He's someone who puts in a lot of effort in training. He's very fit. All of that really contributes. Overall, he's been just fantastic for the side," Dhoni said.