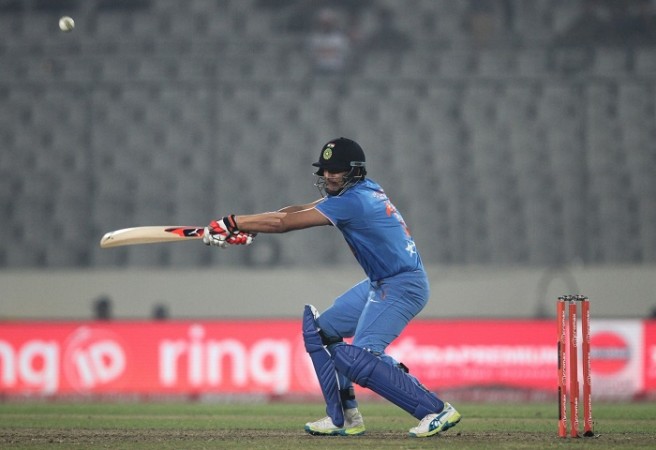 Fast bowling, check. Spin, check. Fielding, check. All-rounder, check. Captaincy, big check. Top order batting, mighty check. Middle order, not a check yet, because it all depends on Yuvraj.
The one issue that India probably had in their T20 outfit was that batting form of Yuvraj Singh; not the "can he stay at the crease?" bit", but the "can he still smash the balls out of the ground and counter-attack?" aspect.
Well, on Tuesday night at the Shere Bangla National Stadium in Mirpur, in an Asia Cup encounter against Sri Lanka, Yuvraj brought those smiles back into the faces of everyone, even the sceptics who were probably convinced he is well past it.
While Yuvraj has had plenty of opportunities with the bat since making his return to the India setup, that bat of his has not quite done the talking. Yes, there was that one innings in Australia, when he hit a couple of boundaries to help India over the line, but apart from that, there really was no sign of vintage Yuvraj, the one we all want to see.
The left-hander might have played a really important innings against Pakistan, but there was very little in that innings to suggest he was back to his best. For Yuvraj to be back to his best, he needs to be thwacking the ball through the offside and onside, with that sound that comes off the bat music to any cricket lover's ears.
On Tuesday night, Yuvraj found that sound, timing the ball to perfection and hitting those big sixes which made him one of the most popular cricketers of all-time in India. That incomparable bat swing of his was working wonders again, and most big shots went easily to the boundary or over it.
In most of his previous innings, Yuvraj has made a conscious effort to spend some time in the middle before trying to cut loose, but against Sri Lanka there was no such plan. From ball one, that bat speed and flow of his was perfect, with the left-hander racing to 18 from just six balls (most of the time, it has been the other way around), before finishing on 35 (18b, 3x4, 3x6).
"The last few games, I have made it a point to spend some time in the middle, but today I just wanted to get out there and attack from the first ball, and thankfully it worked for me. It was not an easy wicket to bat on, but I felt pretty good and those hits gave me confidence."
Nothing bodes better for India than a confident Yuvraj Singh. Because, if Yuvraj starts batting like the Yuvraj of old again, India will be near unbeatable, something that MS Dhoni is also well aware of.
"Yuvraj's innings was crucial not only for this particular game, you know, but for the team and looking at the final [of the Asia Cup] and the World T20," Dhoni said at the presentation ceremony.