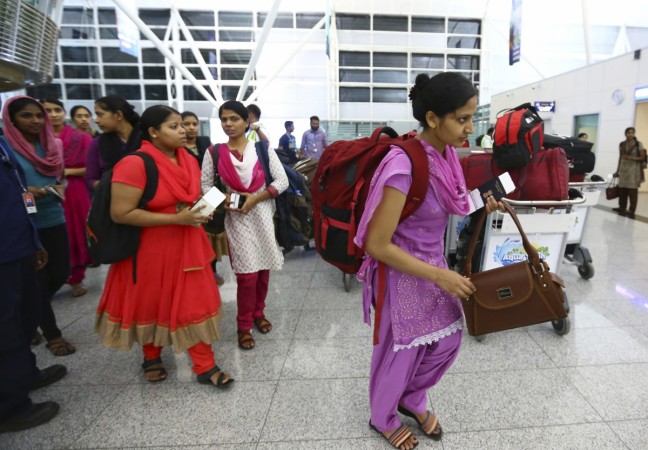 The Indian government's evacuation drive for Indian nationals in Iraq is gathering more momentum just two days after it facilitated the safe return of 46 nurses from Kerala back to the country.
About 2,200 Indian nationals staying in Iraq are now looking to come back from the strife-ridden country and are expected to be in India within the next 48 hours, as reported by the PTI.
On Sunday, 200 Indians returned home from the Middle-East country, a day after the 46 Indian nurses came back home amid much jubilation along with 137 other Indians.
External Affairs Ministry spokesperson Syed Akbaruddin said the focus of relocating Indian nationals was mainly on non-conflict zones in southern Iraq.
"Our advice to them is to leave. But if they are facing problems or are staying back because of tickets, the government is ready to provide them. We are also ready to provide assistance in terms of contractual problems. Based on that, our assessment is 2,200 Indian nationals have in some form or other expressed their desire to leave Iraq," he told the media.
Akbaruddin said 600 Indians have already been provided tickets by the government through the facilitation process of the Baghdad mission, while 600 have been paid for their tickets by the companies, where they were employed.
The MEA spokesperson added that another 1,600 Indians were in the process of being provided tickets by the government for their return home.
The Ministry of External Affairs has been facilitating the evacuation operations, ever since the militant outfit Islamic State of Iraq and Syria ran over many towns in the country over the last month.
There are estimated to be 10,000 Indian nationals in Iraq, of which several hundreds have returned over the last two weeks. The government has also roped in the Indian Navy to keep some of their fleets ready to evacuate Indians.
On Sunday, a special chartered flight of Iraq Airways carried 200 Indians back home from Najaf, a non-conflict zone in Iraq.
But, while the Indian government has been able to rescue Indians from the non-conflict regions in the country, 39 constructions workers abducted in Mosul are still feared to be in captivity, with the government uncertain about their current situation.