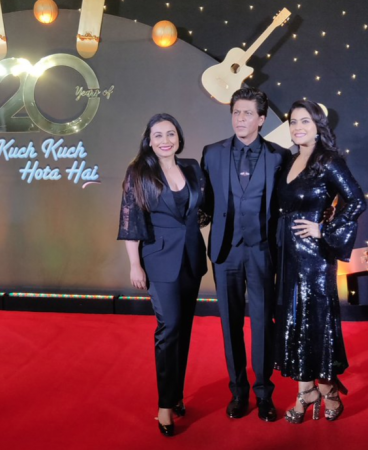 Karan Johar's directorial debut Kuch Kuch Hota Hai released 20 years ago on October 16, 1998, and the team of Dharma Productions got together for a special celebration for the film. Kuch Kuch Hota Hai was a blockbuster in the nineties, being quite popular with the youngsters and children.
On the occasion of the 20th anniversary of the film, Dharma Productions threw a big bash for its lead stars Shah Rukh Khan, Kajol and Rani Mukerji. Salman Khan, who was part of Kuch Kuch Hota Hai in a special appearance, was also part of the celebration though not physically present. Salman Khan sent a special message from his reality show Bigg Boss 12 in which he urged Karan Johar to work with him again!
Shah Rukh Khan, Kajol and Rani Mukerji along with Karan Johar shared their experiences of the movie, and also people associated with the movie behind the scenes. "It was a landmark film for so many careers. Shah Rukh and Kajol were already superstars when they worked in KKHH, but even then, the film has been one of the highlights of their careers. Rani started her journey with the film and it set her up for stardom, too," said Karan Johar.
Karan Johar feels the movie happened just yesterday. He said, "I remember each day of the shoot vividly. The memories of the film seem so fresh. I don't really remember the experience of any other film as distinctly. Perhaps, it's because it was the very first film that I worked on and not necessarily the best film that I have made in my career."
"I just feel that I was a lot more innocent 20 years ago and I was completely convinced about the film, too. Today, I second guess myself a lot more and I'm always overthinking. Those were the days of abandon and conviction and I feel they can never come back again," he said.
Karan Johar made sure his young mentees like Alia Bhatt, Sidharth Malhotra, Varun Dhawan, Janhvi Kapoor and Ishaan Khattar were part of the 20 years of Kuch Kuch Hota Hai anniversary celebration to share their memories of the film.
They were obviously, kids then, toddlers - with Janhvi Kapoor being only a year old! She spoke of how she has watched Kuch Kuch Hota Hai only recently and thinks that every film the millennials love can be traced back to KKHH (as its inspiration).
But Alia Bhatt was six years old when Kuch Kuch Hota Hai released and she shared her memory of watching the film and how everybody in school including her had aped Kajol's short hairstyle in the film.
Alia Bhatt opened the celebration through a special video message, as she is in the US, and Kareena Kapoor Khan introduced Karan Johar. Kareena Kapoor spoke about her bestie and partner in crime Karan Johar and how he is the best, but hinting to him that she wants to be the CEO of Dharma Productions in her old age!
Varun Dhawan spoke of his childhood favourite film KKHH or K2H2, as it was called then. Sidharhth Malhotra as the "blue-eyed boy" of Dharma Productions also spoke about the film and how it changed his sense of cool style.
Ishaan Khattar spoke about the many aspects that brought together and made Kuch Kuch Hota Hai magical for audiences. Both Ishaan and Janhvi also named the other actors of the film like Sana Saeed, Parzan Dastur, Anupam Kher, Archana Puran Singh, Farida Jalal, Himani Shivpuri and Johnny Lever, among others.
Rapper Badshah was also in the house, and spoke about the memory of Kuch Kuch Hota Hai. He spoke about the variety of the songs in Kuch Kuch Hota Hai and let us into the journey of the music of Kuch Kuch Hota Hai. Karan Johar and SRK shared some fun anecdotes from the music and songs, so did choreographer Farah Khan.
The fashion and music of KKHH has been much loved. "I owe a lot to Manish Malhotra for adding such a wonderful sartorial touch to the film. We used some bold colours and styles for the movie, the likes of which Hindi cinema had never seen before. To watch millennials and adults still swear by the styling and fashion of the film feels really good," said Karan Johar.
Karan Johar revealed how Kuch Kuch Hota Hai was a big risk at the time. He said, "It was a combination of excitement and fear. Excitement because I was working on my first film, but there was also the fear and concern for the prospects of the film. My father had gone through a daunting phase of producing movies that didn't do too well at the box office, but here we were making a big-budget movie with a big star cast and it was just my first film. I had the pressure of having to deliver success and I had to do it for my father."
On Kuch Kuch Hota Hai been the foundation of Dharma Productions, Karan Johar said, "Every film we make at Dharma, every decision we take, has been possible only because KKHH was a success."
Also in attendance at the 20 years of Kuch Kuch Hota Hai party were SRK's wife Gauri Khan, Akshay Kumar's wife and author Twinkle Khanna, actors Abhishek Bachchan and his author sister Shweta Bachchan, and Student of the Year 2 actresses Tara Sutaria and Ananya Panday.