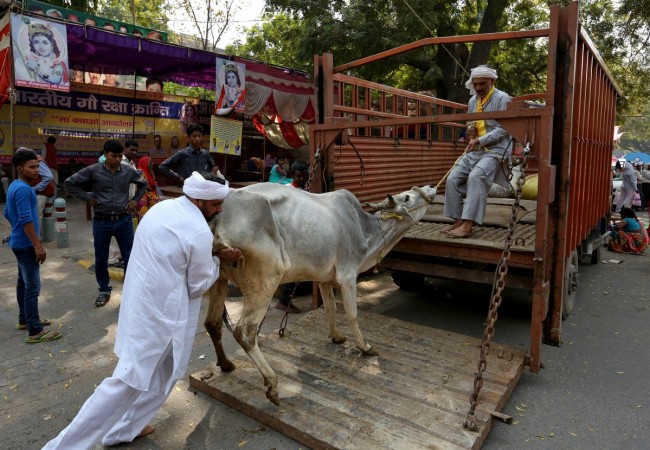 'Gau-rakshaks' allegedly tied two Dalit men to a tree, stripped and thrashed them for skinning a dead cow on Monday at Amalapuram in the East Godavari district of Andhra Pradesh. The two men, one of whom is critical, were admitted to a local hospital.
The owner of the cow, who was a farmer, hired two Dalits — Mokati Elisa and Mokati Rajam — to help him skin a cow that had died of electrocution, the police told reporters. But when 'gau-rakshaks' came to know about it, they beat up the Dalit men assuming that they had killed the cow. The incident took place in the Janakipeta area of the town.
"We have registered a case under SCs/STs (Prevention of Atrocities) Act against some people, who are yet to be identified. We are investigating the case and gathering clues about the suspects," an officer said.
This incident is the latest in the spate of attacks on Dalits that have taken place across the country in recent weeks.
A Dalit man died in police custody in Kanpur on Aug. 4.
Before that, a shopkeeper killed a Dalit couple for not paying him Rs. 15 in Uttar Pradesh on July 28.
Several Dalits in Karnataka, Madhya Pradesh and Gujarat have been lynched or beaten up for carrying beef.
Prime Minister Narendra Modi had recently spoken on the Dalit issue saying that cow vigilantes, who become "anti-socials by night and gau rakshaks by day," are an insult to "cow protectors." He urged them to stop these attacks on Dalits.
"I would like to tell these people that if you have any problem, if you have to attack, attack me. Stop attacking my Dalit brethren. If you have to shoot, shoot me, but not my Dalit brothers. This game should stop," Modi said.