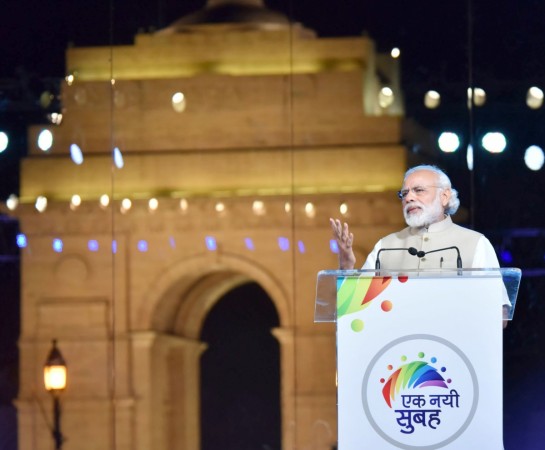 The Vishva Hindu Parishad (VHP) warned the Bhartiya Janata Party (BJP) for Prime Minister Narendra Modi's statement against "gau rakshaks" saying that the Modi government will pay for it in the Lok Sabha polls in 2019.
VHP claimed that Modi's remarks on cow vigilantes being "anti-socials by night and gau rakshaks by day" are an insult to "cow protectors."
PM Modi, on Sunday, lashed out for a second time at "gau rakshaks" who "have a problem with the country's "unity" and "only want to destroy society." He asked people to be careful of "fake gau rakshaks" and called for a stop on attacks on Dalits across the country.
"I would like to tell these people that if you have any problem, if you have to attack, attack me. Stop attacking my Dalit brethren. If you have to shoot, shoot me, but not my Dalit brothers. This game should stop," PM Modi said, speaking for the first time on the issue of attacks on Dalits. He had, on Saturday, slammed self-styled cow protectors during his meeting at the Town Hall in New Delhi.
"There are a few incidents that are very shameful. It is our duty to protect and respect the poor and Dalit people of our country... There are a few bad elements, shortcomings in our society. What right do we have to illtreat our Dalit brothers and sisters? We are the people who talk about 'Vasudhaiva Kutumbakam (the world is one family)' and if we cannot embrace our Dalit brothers and sisters, the world will not forgive us... We will have to strive hard to protect our nation from such anti-social elements, we will have to expose such people," Modi said in his address to party workers in Hyderabad.
PM Modi, who was in Gajwel, Telangana, to inaugurate some developmental projects, also urged state governments to "investigate such gau rakshaks and take stern action."
However, Modi also appreciated the "real devotees, worshippers and servers of cow" for the "great work" that they had done so far and asked them to remain alert and "come forward to expose such people so that they are not successful in their designs."
The BJP and the RSS also released separate statements condemning cow vigilantes for attacking Dalits. BJP leader Sidharth Nath Singh condemned "what anti-social elements are doing in the name of gau rakshaks."
RSS General Secretary Suresh Bhaiyyaji Joshi said: "Some anti-social elements of society have been taking the law in their hands in the name of gau raksha, and trying to disrupt harmony by acts of violence... RSS urges countrymen to expose the condemnable acts of a handful of such opportunistic persons, and not to link them with people involved in the sacred duty of gau raksha... We also urge state governments to take legal action against such elements and do not let the true act of gau raksha and gau seva be disrupted."
Meanwhile, VHP's Gujarat unit demanded a complete ban on cow slaughter across India and said: "Thousands of butchers killing one lakh cows every year are not termed 'goondas' and gau rakshaks like Gita Rambhiya (who was killed in Ahmedabad years ago) are termed 'goondas'... This shows your change of heart," the party said.