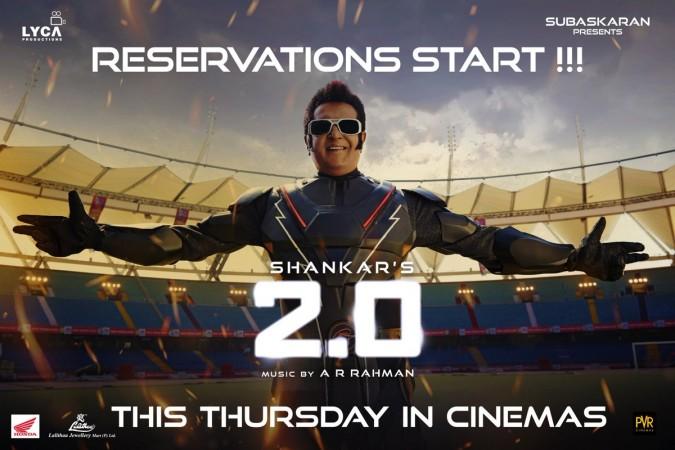 Many were shocked to see the average collection of Rajinikanth's 2.0 at the US box office. But the distributors identified problems in reporting its business and its actual numbers will be revealed by the end of the day.
Rajinikanth, Akshay Kumar and Shankar have huge fan bases in the US and these trio's film 2.0 was expected to start with a bang and make amazing collection at the US box office. The movie was predicted to shatter the records of Baahubali 2, which collected $4.5 million at the US box office in premiere and first day together. But the movie opened to average response and its numbers were shockingly low.
The movie 2.0 struggled to cross $1 million mark at the box office in two days. Its business has shell-shocked the film industry. AndhraBoxOffice tweeted, "With a 1st Day (Premieres+Thu) of around $900K, #2Point0 is off to a Hugely Disappointing Start in USA. Rajini's Highest 1st Day #Kabali collected $2.7 Mn!!.
But PrimeMedia, which has distributed 2.0 in the US, claims that there was a problem in reporting its collection at the US box office. The distributors tweeted on Saturday night, "Request to all trackers reporting #2Point0 USA numbers. We found discrepancies, working with theaters & comscore. We will report correct numbers soon. @THEPANIPURI @Overseasrights @rameshlaus @LMKMovieManiac @LycaProductions (sic)."
Later PrimeMedia added, "#2Point0 BO collection problem identified. None of large format (XD, RPX & Ultra screen) screens are reported. @Comscore notified & will be updated by EOD. Probably not reported in today's hourly gross too #2PointO @GKMediaUSA Partial large format theaters updated & $40K added to gross. More theaters will be updated soon."
The movie 2.0 has collected a total of 1.5 million at the US box office in two days and it is far below the expected mark. Film trade observer Ramesh Bala tweeted, "At the #USA Box Office, #2Point0 with $1,531,755 has crossed #Lingaa 's Lifetime Gross of $1,525,318 to become #Thalaivar 4th Highest Grosser there."
However, 2.0 has manged to cross $2.0 million mark at the US box office on its third day. Idlebrain Jeevi tweeted on Saturday evening, "#2Point0 (all languages) USA gross: Premieres + Thursday: $983,006 Friday: $719,487 (307 locations) Total gross: $1,702,492 " Later, he added, "#2Point0 crosses 2.0 Million dollars in USA! $2.0 for 2.0 "